SRI LANKA (CEYLON) TOUR
18 days
Sri Lanka, formerly known as Ceylon, is a lush tropical island with some magnificent rain forest remnants, lovely beaches and friendly people. Sri Lanka has about 35 (depending on your taxonomy) endemic species of birds, all of which are possible. This tour is planned to give you a good chance to see each of them, and we normally see all or most. The trip list will total nearly 250 species.
Our birding will range from lowland to montane rain forest, coastal lowlands, highland tea plantations, acacia scrub, marshes, mudflats and sandflats. The northern winter is the prime time for birding in Sri Lanka as the resident birds are mostly singing then and there are plenty of Palearctic migrants present. We'll see some fine mammals: Spotted Deer, mongoose, Water Buffalo, Wild Boar and maybe even a leopard or an elephant.
The publication of Birds of South Asia: The Ripley Guide, with its reevaluation of the species limits of many birds, has introduced a number of splits to the Sri Lanka list. The splits affecting the tour have the scientific name in parentheses following their English name.
The tour involves some long, tiring drives and simple but clean accommodation. The food will range from basic to quite good. Bird walks are normally slow and easy, without strenuous walking. Anyone in good health could manage the tour. You'll find the Sri Lankans friendly and helpful. Join us for a very pleasant birding adventure.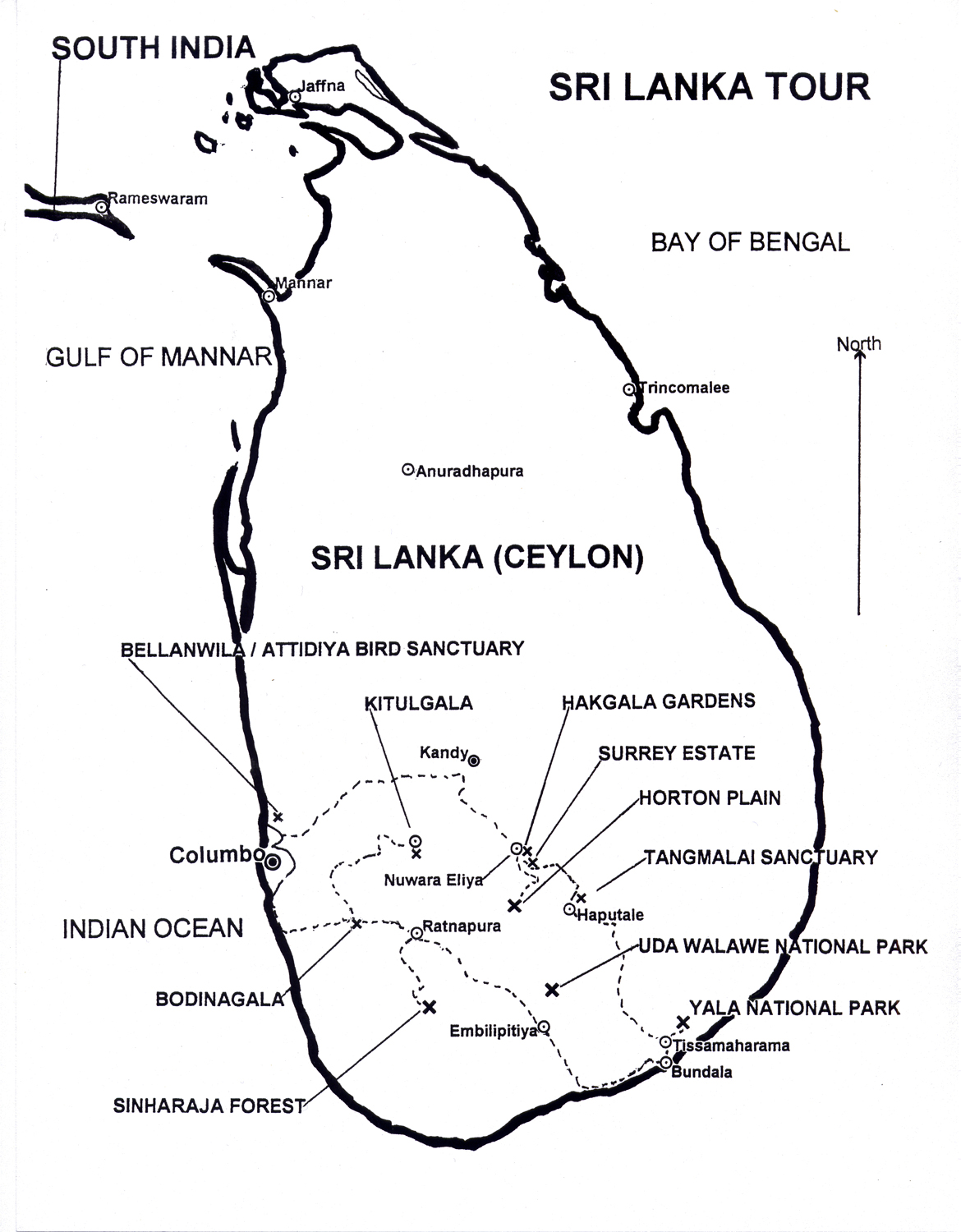 THE LEADER
DEEPAL WARAKAGODA is the sharpest and most active of Sri Lanka's birders. He has found a number of new bird species for Sri Lanka and is continually rewriting the book on Sri Lankan bird identification and distribution. He is a very pleasant birding companion.

THE BIRDING SITES
BELLANWILA/ATTIDIYA BIRD SANCTUARY (1 day) is a marshy area on the edge of Colombo, an excellent place for: Indian Cormorant, Asian Cattle-Egret (Bubulcus coromandus), Yellow, Cinnamon and Black Bitterns, Glossy Ibis, Lesser Whistlingduck, Watercock, Rusty-rumped Warbler, Blyth's Reed-Warbler, Booted Warbler, and Long-billed Sunbird. Colombo accommodation is comfortable.
BODINAGALA (1 day) is a small patch of old forest that is good for Green-billed Coucal, Ceylon Frogmouth, Malabar Trogon, Brown-breasted Flycatcher and other special birds of Sri Lanka.
KITULGALA (2 days) has some fine patches of lowland rain forest. Famed as the site for the filming of The Bridge on the River Kwai, it is an excellent place for our introduction to the birds of Sri Lanka, including most of the lowland rainforest endemics. Possible are: Crested Serpent-Eagle, Ceylon Spurfowl (maybe), Ceylon Green Pigeon (Treron pompadora), Ceylon Hanging-Parrot, Layard's Parakeet, Green-billed Coucal, Ceylon Bay Owl (Phodilus assimilis), Serendip Scops-Owl (Otus thilohoffmanni), Chestnut-backed Owlet, Ceylon Frogmouth, Indian Swiftlet, Yellow-fronted and Crimson-fronted Barbets, Sri Lanka Flameback (Chrysocolaptes stricklandi), Ceylon Swallow (Hirundo hyperythra), Orange Minivet (Pericrocotus flammeus), Black-capped Bulbul (Pycnonotus melanicterus), Yellow-browed Bulbul, Sooty Bulbul (Hypsipetes ganeesa), Jerdon's Leafbird (Chloropsis jerdoni), Ceylon Scimitar-Babbler (Pomatorhinus melanurus), Orange-billed and Yellow-billed Babblers, Large-billed Leaf-Warbler, Brown-breasted Flycatcher, Asian Paradise-Flycatcher, White-browed Fantail, Pale-billed Flowerpecker, Purple-rumped Sunbird, Ceylon Myna, Ceylon Drongo (Dicrurus lophorinus), and Ceylon Magpie. Our hotel is a basic but pleasant place.

SINHARAJA (2 days) is a magnificent lowland rain forest, the last large patch left in Sri Lanka. Birding here is superb. All the species found at Kitulgala are here plus: Ceylon Junglefowl, Green Imperial Pigeon, Red-faced Malkoha, Malabar Trogon, Ceylon Grey Hornbill, Spot-winged Thrush, Brown-capped, Tawny-bellied, and Dark-fronted Babblers, Ashy-headed Laughingthrush, White-throated Flowerpecker, Long-billed Sunbird and White-faced Starling. We'll also get second chances at Ceylon Spurfowl, Chestnut-backed Owlet, and Ceylon Magpie. Our hotel is basic and rather nice.
UDA WALAWE (1 day) is a large park consisting of rolling grasslands interspersed with patches of forest and scrub, with a large lake. It's an excellent place for Spot-billed Pelican, Crested Hawk-Eagle, Barred Buttonquail, Sirkeer Malkoha, Indian Pitta, Jerdon's Bushlark (Mirafra affinis), Blyth's Pipit, and Black-headed Munia. Our hotel is basic and comfortable.
YALA NATIONAL PARK (3 days) and its environs is one of Sri Lanka's most exciting birding areas. We've seen 131 species in a day here. Its long bird list derives from its diverse habitats: acacia scrub, dry forest, marshes, lakes, mudflats, seacoast, etc. Some of the birds we'll see are: Indian Cormorant, Spot-billed Pelican, Yellow and Black Bitterns, Painted Stork, Asian Openbill, Wooly-necked and Black-necked Storks, Lesser Adjutant, Black-headed Ibis, White Spoonbill, Greater Flamingo, Lesser Treeduck, Grey-headed Fish-Eagle, Indian Peafowl, Pheasant-tailed Jacana, Greater Paintedsnipe, Yellow-wattled Lapwing, about 25 shorebirds (including Pintail Snipe and Broad-billed Sandpiper), Indian (Burhinus indicus) and Great Thick-knees, Brown-headed Gull, Lesser Crested Tern, Alexandrine Parakeet, Pied and Grey-bellied Cuckoos, Blue-faced Malkoha, Brown Fish-Owl (maybe), Jerdon's Nightjar (split from Large-tailed), Indian Nightjar, Crested Treeswift, Malabar Pied Hornbill, Brown-headed Barbet, Ceylon Woodshrike (Tephrodornis affinis), White-browed Bulbul, Forest Wagtail, and Indian Robin. We'll also see Water Buffalo, Spotted Deer, Wild Boar, and perhaps a leopard. Accommodation here is basic and comfortable.
The TANGMALAI SANCTUARY (1 day) is a tiny patch of montane forest that can be good for Ceylon Wood-Pigeon and Pied Thrush. The SURREY ESTATE (11 February) is an excellent place for Ceylon Hill Pigeon, Brown Wood-Owl and Pied Thrush. We even saw a Slaty-legged Crake there once.
NUWARA ELIYA (3 days) is a pretty green town in the hills with some forest patches, while HORTON PLAIN is a Biosphere Reserve with some superb montane forest. Between the two places, we should see: Hill Swallow (Hirundo domicola), Yellow-eared Bulbul, Indian Blue Robin, Ceylon Whistlingthrush (maybe), Ceylon Blackbird (Turdus kinnisii), Ceylon Bush-Warbler, Jungle Prinia, Kashmir Flycatcher (split from Red-throated), Dull-blue Flycatcher, Ceylon White-eye and Black-throated Munia. Accommodation is comfortable.
THE ITINERARY
| | |
| --- | --- |
| Monday | Arrive Colombo. Overnight Berjaya Mount Royal Beach Hotel. Early morning birding Bellanwila/Attidiya Bird Sanctuary. Afternoon rest. |
| 14 days | On tour. |
| Tuesday | Depart Colombo. |
TOUR CONDITIONS
AIR CONSIDERATIONS: The tour begins and ends in Colombo. Please plan to arrive in Colombo a day or two early to ensure timely arrival and allow some time to get over jet lag. There are no internal flights in Sri Lanka.
LAND PRICE / NUMBER OF PARTICIPANTS: The land price is based on the number of participants. The maximum number of participants will be 10.
LAND PRICE INCLUDES: Land price includes all ground transportation, double occupancy hotel rooms, all meals, guides, tips and fees. Three liters of bottled water per person per day will be supplied. NOT INCLUDED are airport taxes, still camera and video fees, service charges for obtaining visas, excess baggage charges, laundry, personal tips, alcoholic beverages, soft drinks, fruit juices (except at breakfast), bottled water in excess of 3 liters, room service charges, items not on menu of included meals, personal items, souvenirs, sightseeing not included in the itinerary, insurance of any kind, and telephone calls. For those joining only part of a tour, meals taken before and after leaving the group are not included.
LAND AND AIR RATES: All prices are based on tariff and exchange rates in effect for the tour. Price changes, due either to alterations in tariffs or exchange rates, will be reflected in the prices charged for the tour. KingBird Tour's planning, promotional and operating costs are included in all tour rates.
ACCOMMODATIONS: Based on two persons sharing a twin-bedded room. Single rooms will be available at the supplement charge quoted. In some of the more remote areas, however, single rooms are unavailable. We'll supply roommates where possible, but cannot guarantee to find roommates for all desiring them. If no roommate is available, the single supplement will be charged for any person utilizing single accommodation. First class or best available hotels with private bath and air-conditioning are provided where available. However, some accommodation will be basic.
MEALS: All meals will be provided, i.e., breakfast, table d'hote lunch, and dinner. Box lunches will be utilized on some days.
TOUR ESCORT: The leader of your tour, Deepal Warakagoda, will join you shortly after your arrival in Colombo and be with you during the entire tour.
TAXES AND GRATUITIES: All necessary gratuities to hotel staff, waiters, local guides, drivers, etc. are included in the tour price. Thus it is NOT necessary to tip anyone on the entire tour. However, if you wish to tip anyone for special services, or because you like them, it is quite all right. All local government taxes are included in the tour price.
LOCAL FEES: All park entry fees are included in the tour price. Camera fees are NOT included. (Most parks have camera fees.)
BAGGAGE: International flight baggage allowance from Los Angeles to Kuala Lumpur is 2 pieces with a maximum total dimension (length, width, height of both pieces added up) of 106 inches. Note that most US-based airlines now allow only 23 kg. (50 lbs.)/bag (you will be charged for any excess up to the 32 kg. (70 lbs.) limit. On many foreign airlines, each bag may weighs up to 32 kg. (70 lbs.). You will be responsible for any excess baggage charges. Be sure to point out to the check-in agent (for Kuala Lumpur/Colombo and Colombo/Kuala Lumpur flights) that you are connecting with a trans-Pacific flight to get the 2 piece baggage allowance. You are allowed one carry-on bag on all flights. Air carriers liability for baggage loss is limited and baggage insurance is recommended.
SMOKING RULES:
(1) NO smoking in vehicles.
(2) NO smoking at meal tables.
(3) NO smoking in bedrooms if your roommate does not smoke.
(4) The smoker is expected to see that his smoke does not move toward other tour members, at all times.
(5) Anyone smoking will be last in line on single-file paths or trails.
---