CHINA TOUR
MANCHURIA / INNER MONGOLIA
Heilongjiang/Nei Mongol Zizhiqu/Jilin Provinces
26 days
Long closed to foreigners, these three provinces in extreme northeastern China are now admitting travellers to even the more remote parts. Several of the good birding areas were opened to foreigners a few years ago. However, we've been waiting for the time when all the places we wanted to visit were open. That time has come. We had some fine birding on our previous tours. We've incorporated what we learned on those tours, making the itinerary more effective, shorter and easier.
Until recently, most of the areas we will visit were in Heilungkiang Province, which was the northern part of what was traditionally known as Manchuria. However, in 1980, the northwestern section of Heilongjiang (new Pinyin spelling) Province was shifted to the Nei Mongol Zizhiqu Province (Inner Mongolia). As you'll see from the map (p. 3), our route will take us quite close to the borders of both Russia and Mongolia.
It's magnificent country, ranging from the grassy steppes of Inner Mongolia to the boreal forests of Heilongjiang, and the superb marshes and lakes in both areas. The breeding season is the best time to visit and the prime time is late May and June when singing is at its peak as the birds broadcast their territorial ownership. The birding is superb with some really exciting species: Oriental Stork, Whooper Swan, Swan Goose, Mandarin Duck, Falcated Teal, Baer's Pochard, Scaly-sided Merganser, Upland Buzzard, Amur and Saker Falcons, Spotted (Black-billed) Capercaillie, Hazel Grouse, Daurian Partridge, 5 cranes (Common, Hooded, Red-crowned, White-naped, and Demoiselle), Band-bellied Crake, Great Bustard, Oriental Plover, Little Curlew, Asian Dowitcher, Relict Gull, Rufous-tailed Robin, White-throated Rockthrush, Siberian Thrush, Grey-backed and Pale Thrushes, Chinese Babbler, Bearded and Reed Parrotbills, Asian Stubtail (Stub-tailed Bush-Warbler), Spotted and Chinese Bush-Warblers (maybe), Lanceolated, Rusty-rumped and Gray's Warblers, Yellow-rumped, Mugimaki and Blue-and-white Flycatchers, Manchurian Penduline-Tit, 12-14 buntings (including Jankowski's, Ochre-rumped, Tristram's, Yellow-browed (maybe], Pallas's and Reed), Long-tailed Rosefinch, Hawfinch, Grey Grosbeak, Small Snowfinch, Siberian Jay and Daurian Jackdaw.
This is not an easy or comfortable trip. In fact, it is quite tiring because of a combination of long drives and train rides and long daylight hours. We'll have 2 overnight train rides (in reasonably comfortable sleepers). Much of the accommodation will be quite basic and several places just plain primitive. On about 7 days (not continuous), bathing will not be possible. The toilets will frequently be unpleasant. The food will be okay to good, occasionally quite good. The daylight hours will be long and we'll usually have a midday nap to allow us to make the best of both ends of the day. Having said all this, the trip is not a particularly strenuous one. Our walking will usually be slow and there aren't any real hills. Anyone in good health could take it in stride. You'll find our hosts friendly and eager to make our trip as comfortable as possible. This trip demands a sense of adventure. Given that, you'll have a grand time.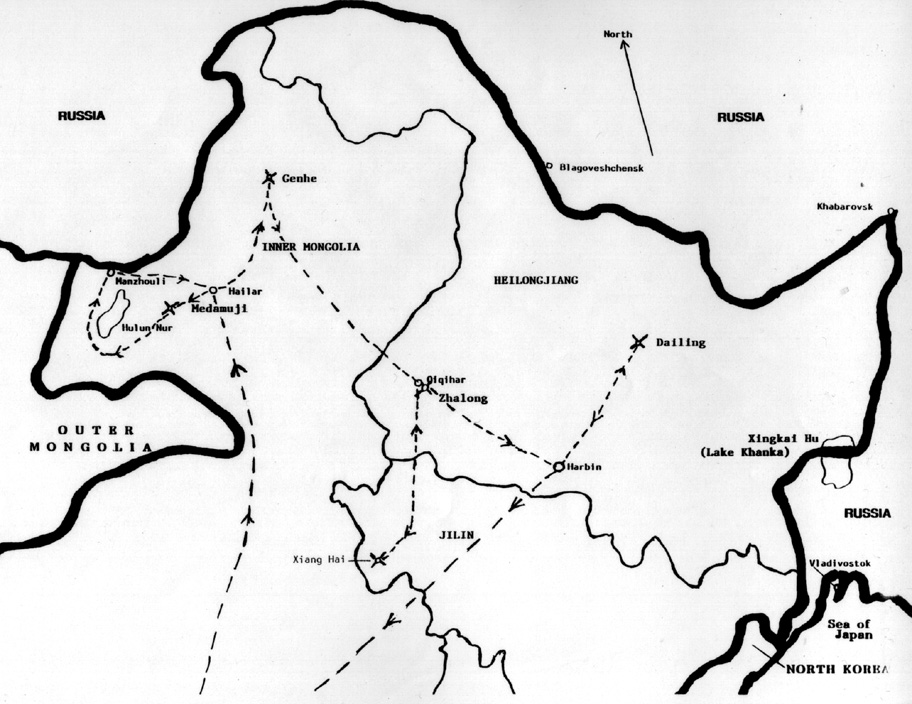 THE LEADER
BEN KING, president of KingBird Tours, has led 144 tours in Asia and is one of the most experienced bird-tour leaders on that continent. He has observed over 2,100 species of birds in Asia. He has written A Field Guide to the Birds of South-East Asia and Checklist of the Birds of Eurasia.He has seen more species of China's birds than any other ornithologist (all but about 11of the 1,220 species--99% of the fauna). He has spent three years birding in many parts of China, including leading our 26 tours there, and is thoroughly familiar with its avifauna. His knowledge of the birds, their habits and where they are found assures you of the best possible birding experience in China.
THE BIRDING SITES
MEDAMUJI (48_43.5'N, 118_47'E, 600+m., 3 days) and HULUN NUR (48_14'N, 117_18E, 600+m., 3 days)) are fine wetland areas situated amidst the rolling grassy steppes of northeastern Inner Mongolia. We'll drive right around one of China's largest lakes, Hulun Nur. Birdlife is prolific in this area with: Great Bittern, Whooper Swan, Swan Goose, Ruddy Shelduck, Falcated and Spot-billed Ducks, Eastern Marsh-Harrier, Upland Buzzard, Amur and Saker Falcons, Common, Hooded (maybe), Red-crowned and White-naped Cranes, Great Bustard, Northern Lapwing, Oriental Plover, Little Curlew, Black-tailed Godwit, Spotted Redshank, Terek Sandpiper, Asian Dowitcher, Broad-billed Sandpiper, Pied Avocet, Relict Gull, Pallas's Sandgrouse, Mongolian Lark, Greater Short-toed Lark, Yellow-hooded Wagtail, Blyth's and Pechora Pipits, Rufous-tailed and Chinese Grey Shrikes, Isabelline Wheatear, Bearded and Reed Parrotbills, Lesser Whitethroat, Pallas's (maybe), Yellow-browed (maybe) and Yellow-breasted Buntings, Small Snowfinch and Purple-backed Starling. The hotels at Manzhouli and Hailar are okay, while at Medamuji our quarters are quite basic.
GENHE (50_41'N, 121_23'E, 630m., 5 days) lies in the great taiga forest zone of northern Eurasia in the Da Hinggan Ling (Greater Xinggan Mountains). The entire area is managed as a tree farm. The primary bird of interest here is the Spotted (Black-billed) Capercaillie, a whopper of a grouse that is fairly common here. They'll have eggs while we're there and are difficult to find, but we've managed to see one each tour. Likely species are: Hazel Grouse, Eurasian Wryneck, Great Spotted and Three-toed Woodpeckers, Siberian Rubythroat, Eye-browed Thrush, Lanceolated, Thick-billed, Dusky, Radde's, Pallas's Leaf-, Yellow-browed, and Two-barred Warblers, Pale-legged Leaf-Warbler, Grey-streaked, Dark-sided, and Yellow-rumped Flycatchers, Long-tailed, Marsh, Willow and Coal Tits, Chestnut and Black-faced Buntings, Eurasian Siskin, and Long-tailed Rosefinch. We might see a Northern Hawk-Owl, Great Grey Owl, White-winged Crossbill, or Siberian Jay. Accommodation will be one night in an okay hotel (1-star) and 3 nights of basic quarters. They've put a bus body on rail wheels and we'll do some of our birding from it--kinda fun.
XIANG HAI (45_ 2.6'N, 122_ 20.3'E, 200m., 3 days). This is quite a large national nature reserve, consisting of extensive marshes, grasslands and scrub forest. Important breeding birds are Red-crowned and White-naped Cranes and Jankowski's Bunting. In some years, the Oriental Stork breeds here. Likely species are: Schrenck's Bittern, White Spoonbill, Swan Goose, Common Shelduck, Baer's Pochard, Amur Falcon, Daurian Partridge, Grey-headed Lapwing, Asian Dowitcher, Oriental Pratincole, Chinese Grey Shrike, Manchurian Penduline-Tit, and Chestnut-eared Bunting. Accommodation basic.
ZHALONG (47_13'N, 124_12'E, 140m., 2 days) is a vast area of lakes, marshes, reeds and grasses. It is famous for its breeding Red-crowned and White-naped Cranes. Other species we'll look for are: Great Crested Grebe, Schrenck's and Great Bitterns, White Spoonbill, Baer's Pochard, Pied Harrier, Japanese Quail, Far Eastern Curlew, White-winged Tern, Fork-tailed Swift, Asian Short-toed Lark, Eurasian Skylark, Reed Parrotbill, Japanese Swamp-Warbler, Black-browed Reed-Warbler, Ochre-rumped (Japanese Reed) Bunting, and White-cheeked Starling. Accommodation okay.
DAILING (47_01'N, 129_01'E, 280 m., 4 days) is in the taiga forest zone in the Xiao Hinggan Ling (Lesser Xinggan Mountains). Managed as a tree farm, this forest contains some nice patches of old growth amidst the extensive secondgrowth forests. It is one of the best places to see the endangered Scaly-sided Merganser. Some 50 pairs are said to breed there along two small rivers. We have an excellent chance of seeing some. Most of the birds seen at Genhe are here with some nice additions: Mandarin Duck, Oriental Honey-Kite, Eurasian Sparrowhawk, Eurasian Hobby, Northern Hawk-Cuckoo, Indian Cuckoo, White-throated Needletail, Dollarbird, White-backed Woodpecker, Ashy Minivet, Rufous-tailed Robin, Siberian Blue Robin, Daurian Redstart, White-throated Rockthrush, Grey-backed and Pale Thrushes, Asian Stubtail (Stub-tailed Bush-Warbler), Grey's Warbler, Mugimaki and Blue-and-white Flycatchers, Tristram's and Yellow-throated Buntings, Long-tailed Rosefinch, Eurasian Bullfinch, Hawfinch, and Grey Grosbeak. We might see a Japanese Sparrowhawk, Eurasian Pygmy Owl, or Ural Owl. Our 1-star hotel is okay.
In the BEIJING (1 day) area, we visit a good area near the GREAT WALL for birding. Our prime targets will be the Chinese Babbler (Rhopophilus pekinensis) and Plain Laughingthrush. Likely birds are: Common Pheasant, Oriental Turtle-Dove, Common Swift, Hoopoe, Grey-headed Woodpecker, Vinous-throated Parrotbill (maybe), Arctic Warbler, Asian Brown and Yellow-rumped Flycatchers, Japanese White-eye, Chestnut-lined (Godlewski's) and Meadow Buntings, Grey-capped Greenfinch, Black-naped Oriole, Blue and Azure-winged Magpies, and Large-billed Crow. We will take a look at the Great Wall, an impressive structure, the Ming Tombs, and the immense Forbidden City, home of China's last Emperors. The Sino-Swiss Hotel is quite pleasant.


THE ITINERARY
| | |
| --- | --- |
| Wednesday | Arrive Beijing. Overnight Sino-Swiss Hotel (conveniently near the airport). |
| Thursday | Fly Beijing/Hailar (Inner Mongolia). |
| 20 days | On tour. |
| Thursday | Fly Harbin/Beijing. Overnight Sino-Swiss Hotel. |
| Friday | Morning birding near Great Wall. Midday visit Ming Tombs. Afternoon visit Forbidden City. Overnight Sino-Swiss Hotel. |
| Saturday | Depart Beijing. |


TOUR CONDITIONS
AIR CONSIDERATIONS: We'll purchase your internal China flight tickets in Beijing in order to keep the group together. Be sure to plan to arrive in Beijing 1 or 2 days early so you'll be rested and don't have to worry about late flights.
LAND PRICE/NUMBER OF PARTICIPANTS: Land price is based on the number of participants. The maximum number of participants will be 12.
LAND PRICE INCLUDES: Land price includes all ground transportation, transfers, double occupancy hotel rooms, all meals, guides, tips, fees, and airport taxes in China. NOT INCLUDED are airport taxes outside China, passports, visas, excess baggage charges, forwarding of baggage, souvenirs, laundry, personal tips, alcoholic beverages, room service charges, items not on menu of included meals, personal items, fees for vaccinations, sightseeing not included on itinerary, insurance of any kind, telephone calls, cable or telex charges, medical examinations or treatment, and meal or other charges incurred which are not part of the itinerary (caused by any unforeseen delay beyond our control).
LAND RATES: All prices are based on tariffs in effect for this trip.. If there are price changes, they will be passed along to tour members.
KingBird Tours' planning, promotional and operating costs are included in all tour rates.
TRANSPORTATION: Surface transportation is normally by Chinese jeep or minibus.
ACCOMMODATION: Based on two persons sharing a twin-bedded room (in 2 places, 5 or 6 to a room). Single rooms will not be available everywhere. We'll supply roommates if possible, but if none is available, the single supplement will be charged. High quality hotel with private bath will be supplied in Beijing. Accommodation will be primitive to adequate elsewhere.
ITINERARY: KingBird Tours reserves the right to make any necessary changes in the itinerary. Note that our Chinese hosts may make alterations in the itinerary that are beyond the control of KingBird Tours.
MEALS: All meals will be provided, i.e., breakfast, table d'hote lunch and dinner.
TOUR ESCORTS: The leader of your tour, Ben King, will be with you during the entire tour from Beijing to Beijing. Our Chinese hosts will have an interpreter with the group at all times to assist however he or she may.
GRATUITIES: Tipping is illegal in China. ONLY books, pamphlets, or other non-political written material may be given. Consult your trip leader if you wish to reward any of the Chinese who assist us.
MEDICAL AND HEALTH: All applicants should be in good health and in good physical condition. If in doubt about your ability to manage the trip, consult your physician. The trip leader has the right to disqualify anyone at any time during the trip if he believes it is medically necessary. Refunds are not given under such circumstances.
BAGGAGE: International flight baggage allowance from USA to Beijing is two pieces with a maximum total dimension (length, width, height of both pieces added up) of 106 inches. Each bag may weigh up to 32 kilograms (70 pounds). However, internal flights in China allow a maximum of 20 kg. (44 lbs.). They are likely to weigh your luggage carefully but are less zealous with groups and hand baggage. You will be responsible for any excess baggage charges. The rates are inexpensive, so don't worry about it. There is currently no problem with 2 hand-carries in China. Air carrier's liability for baggage loss is limited and therefore baggage insurance is recommended and available at nominal rates. N.B., most checked luggage is now X-rayed at some airports in China. Keep film either in a lead-lined bag or in your hand-carry bag and take it out to avoid X-rays

SMOKING RULES: NO smoking in vehicles. NO smoking at meal tables. NO smoking in bedrooms if your roommate does not smoke. The smoker is expected to see that his smoke does not move toward other members, at all times. Anyone smoking will be last in line on single-file paths or trails.
---