MALAYSIA TOUR
23 days
MALAYA (West Malaysia) 12 days
BORNEO (Mt. Kinabalu, Sabah East Malaysia) 10 days

For those of you who have never birded in Asia before, here is an ideal place to start. Malaysia is clean and comfortable, the distance from accommodation to the birds short, and the birding superb. The people are friendly and helpful, facilities modern, roads and transportation excellent, food and accommodation good to excellent, and the sanitation level high.
The rain forests of Malaysia are renowned for their dazzling array of colorful and exotic birds: falconets, pheasants, malkohas, treeswifts, trogons, kingfishers, hornbills, barbets, pittas, leafbirds, babblers, laughing­thrushes, flowerpeckers, sunbirds, etc. On this 3-week tour, we'll see a wonderful variety of birds, about 300 species, including 5 or 6 trogons, 6-9 kingfishers, 5 or 6 species of hornbills, 6 or 7 broadbills, 3-5 pittas, 35-40 babblers, etc. Besides all these birds are many beautiful butterflies, flying lizards, pitcher plants, and the strange and wonderful noises from birds, mammals, frogs, insects and lizards. We have a good chance to see the Proboscis Monkey and some 30 other species of mammals, including 6 more primates. With luck we'll see a wild Orangutan. The scenery is marvelous, from scenic coastal areas to the majestic Mt. Kinabalu (the highest mountain between the Himalayas and New Guinea), from lush tropical jungles with giant 200 ft. trees to mossy montane forests and exotic oriental cities.
This tour is designed to have a day or two longer than usual at each of the key birding areas to allow us enough time to get well acquainted with the common species, as well as giving us more than one chance at the more difficult ones. This will give us some time to look for pheasants and other species that would otherwise have to be passed up. It also assures us of a more leisurely, less frantic pace overall.
This is one of our easiest tours. Anyone in reasonably good health will be just fine. It will be hot and humid on some days. Walking on uneven jungle trails is necessary. Accommodations are comfortable to excellent. Food is mostly good to excellent.
Recent reports of terrorism in Malaysia are confined to several islands off the eastern coast of Sabah by boat-based folks from the SW Philippines. These islands are now regularly patrolled and are quite remote from our tour route. Disturbance to our tour group is highly unlikely.
THE LEADER
DENNIS YONG is the sharpest field birder ever produced in Malaysia. His knowledge of Malaysian bird vocalizations, identification and habits is unequaled. Besides his expertise with birds, he is quite knowledgeable on other aspects of natural history, especially plants, trees, reptiles, insects, etc. He is the most experienced bird tour leader for Malaysia in the world. He has shown the birds of Malaysia to hundreds of visitors from all over the globe, guiding both birders and scientists of many disciplines. There is no better way to see the birds of Malaysia than with Dennis. His knowledge of the birds, their habits, and where they are found assures you of the best possible birding experience in Malaysia.
THE BIRDING SITES
MALAYA (WEST MALAYSIA)
FRASER'S HILL (3 days) is cool and comfortable at about 1,200 meters (4,000 ft.) elevation. Birding in the marvelous montane forests here is relaxed and rewarding. Some of the birds are: Blyth's Hawk-Eagle, Little Cuckoo-Dove, Blue-spectacled and Wedge-tailed Pigeons, Orange-breasted and Red-headed Trogons, Fire-tufted Barbet, Long-tailed Broadbill, Lesser Shortwing, Slaty-backed Forktail, Marbled Wren-Babbler, Chestnut-capped Laughingthrush, Cutia, Black-eared Shrike-Babbler, White-hooded Babbler, Brown-cheeked Fulvetta, Long-tailed Sibia, Mountain Tailorbird, 5 flycatchers (including Large Niltava), Sultan Tit, Blue Nuthatch, Streaked Spider­hunter, Brown Bullfinch, Pin-tailed Parrotfinch, etc. The Quest Resort is comfortable.
TAMAN NEGARA (6 days) is situated northeast of Kuala Lumpur and is Malaya's largest national park. It is one of the finest rain forest birding areas in the world. We've seen 47 species in 3 hours in 1 fruiting fig tree, including 7 species of hornbills! Our stay here will seem too short as we see Malaya at its best: Crested Fireback, Little Green Pigeon, 4 or 5 cuckoos, 3 or 4 malkohas, several trogons, 3 or 4 kingfishers, 5 or 6 hornbills, 5 or 6 barbets, 3 or 4 broadbills, Banded Pitta, 12-16 bulbuls, Asian Fairy-bluebird, 15-20 babblers, Malaysian Rail-Babbler, 5-10 flycatchers, several flowerpeckers, 4 sunbirds, and 3-5 spiderhunters. The birds come and go in waves as the mixed feeding flocks move noisily through the forest. Our stay here will allow some time for owling and chasing down the sneaky ones. Also present are: Black-thighed Falconet, Large Green Pigeon, Blue-rumped Parrot, Pink-cheeked Parakeet, Malaysian Eared Nightjar, Silver-rumped Swift, 2 treeswifts, Red-bearded Bee-eater, 6-8 woodpeckers, Garnet Pitta, and Asian Paradise-Flycatcher. With luck we might see a Bat Hawk, Crested Partridge, Malaysian Peacock-Pheasant, or Malaysian Honeyguide. Our accommodation is new and comfortable, with good food.
KUALA SELANGOR (1 day) is situated on the coast, west of Kuala Lumpur. Here we'll explore mangroves, coastal scrub and mudflats in hopes of finding: migrant shorebirds, Mangrove Pitta, Pied Triller, Mangrove Whistler, Mangrove Blue Flycatcher, Yellow-breasted Gerygone, etc.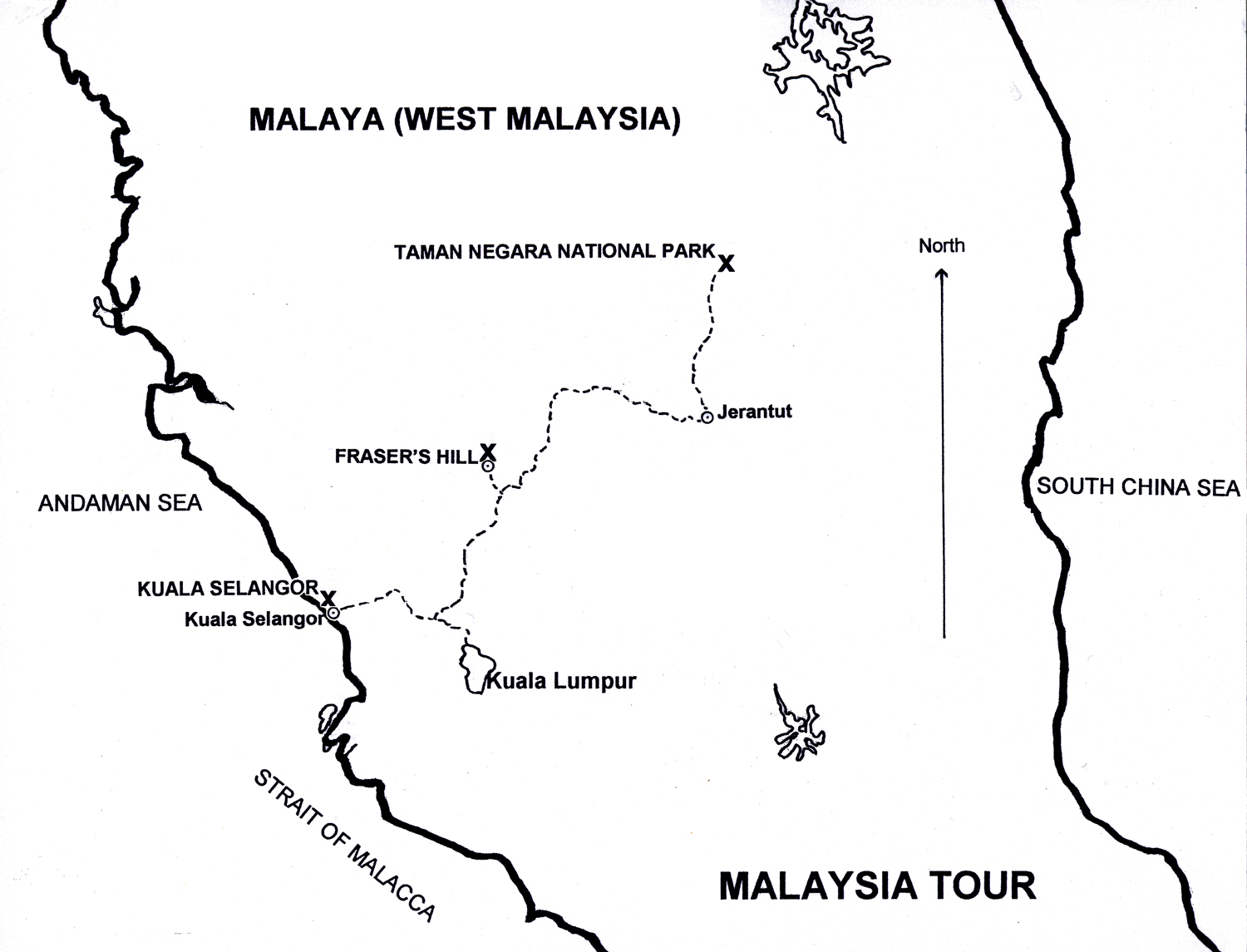 BORNEO (SABAH, EAST MALAYSIA)
DANUM VALLEY (4 days) is a remote and magnificent remnant patch of lowland rain forest. There are Orangutan, Sumatran Rhino, Clouded Leopard, and Asian Elephant roaming here. Of these, we have a fair chance of seeing the Orangutan. Birding is exciting with Rufous-bellied Eagle, White-fronted Falconet, Green Imperial Pigeon, Buffy Fish-Owl, Helmeted Hornbill, Checker-throated Woodpecker, Black-and-red and Banded Broadbills, Black-crowned and Blue-headed Pittas, Black-and-white Bulbul, White-crowned Shama, Fluffy-backed Tit-Babbler, Bornean and Black-throated Wren-Babblers, Bornean Bristlehead, and Crested Jay. There is a small chance of seeing Bulwer's Pheasant, Bornean Ground-Cuckoo, or Giant Pitta. Our accommodation is a new and comfortable resort in the jungle, the Borneo Rain Forest Lodge.
The SUKAU (2 days) area has some excellent forest edge, as well as several lakes and a river. The river will be cruised by boat to view the strangely beautiful Proboscis Monkey. The rare Storm's Stork is frequently seen here as well. We'll explore the Gomantong Cave to see Mossy-nest, Edible-nest and Black-nest Swiftlets where they can be positively identified by the field marks of their nests. The Bat Hawk is likely here. Other species to be seen in the area are: Oriental Darter, Red-naped Trogon, Blue-eared Kingfisher, Black Hornbill, Red-throated Barbet, Rufous Piculet, Black-and-red Broadbill, Fiery Minivet, Black-winged Flycatcher-shrike, White-chested Babbler, Rufous-tailed Tailorbird, Asian Paradise-Flycatcher, Yellow-rumped Flowerpecker, Purple-throated Sunbird, Hill Myna, etc. Accommodation comfortable.
MT. KINABALU (3 days), at 4,101 meters (13,455 ft.), is the highest peak between continental Asia and New Guinea. It has a good share of Borneo's endemic species and we'll see some of them. Our comfortable lodging is at about 5,000 ft. and we'll range up to about 6,000 ft. looking for: Mountain Scops-Owl, Whitehead's Trogon, Golden-naped Barbet, Whitehead's Broadbill, Sunda Cuckooshrike, White-browed Shortwing, Sunda Whistlingthrush, Fruithunter, Sunda and Black Laughingthrushes, Sunda Bush-Warbler, Mountain Leaf-Warbler, Yellow-breasted Warbler, Jungle Flycatcher, Pygmy Blue Flycatcher, Bornean Whistler, Black-sided Flowerpecker, Whitehead's Spiderhunter, Black-capped White-eye, Mountain Blackeye, Black-and-crimson Oriole, Short-tailed Magpie, Bornean Treepie, etc. etc. Accommodation simple and pleasant.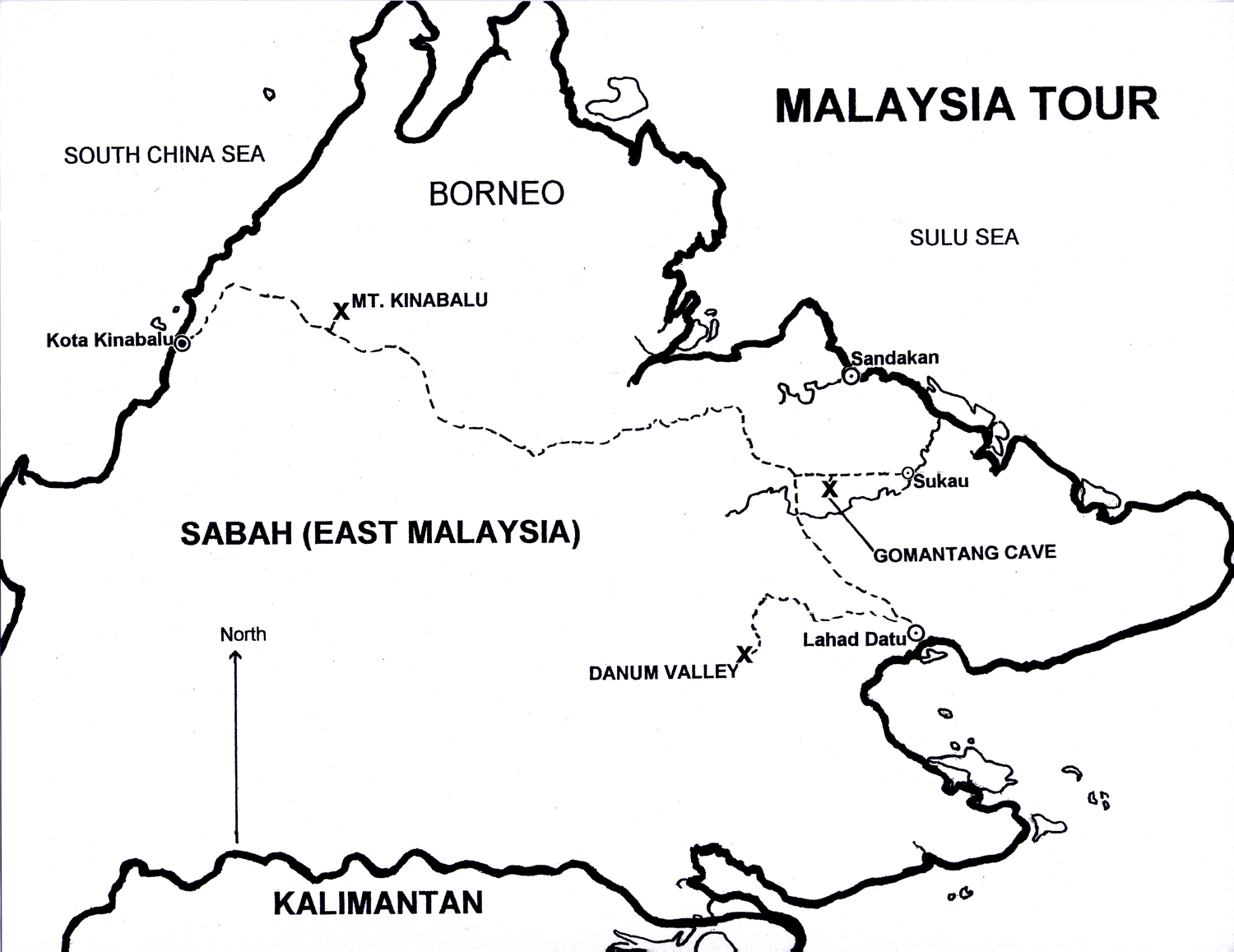 THE ITINERARY
| | |
| --- | --- |
| Sunday | Arrive Kuala Lumpur at 1215. Drive Fraser's Hill. Overnight Quest Resort. |
| 9 days | On tour in Malaya. |
| Wednesday | Birding Kuala Selangor. Overnight Equatorial Hotel in Kuala Lumpur. |
| Thursday | Morning flight to Kota Kinabalu, with connecting flight to Lahad Datu. Drive to Borneo Rain Forest Lodge. |
| 9 days | On tour in Sabah on Borneo. |
| Sunday | Early morning birding Mt. Kinabalu. Drive Mt. Kinabalu/Kota Kinabalu. Fly Kota Kinabalu/Kuala Lumpur. Depart Kuala Lumpur. |
TOUR CONDITIONS
AIR CONSIDERATIONS: We will purchase your internal Malaysia air tickets in order to keep the group together. Thus the tour begins and ends in Kuala Lumpur. Please plan to arrive in Kuala Lumpur a day or two early to ensure timely arrival and allow some time to get over jet lag.
PARTICIPANT LIMIT: 10 persons, plus the leader.
LAND PRICE BASIS: Land price is based on the number of participants.
LAND PRICE INCLUDES: All ground transportation, double occupancy hotel rooms, all meals, guides, tips, fees and airport taxes when accompanied by the leader. NOT INCLUDED are: airport taxes when not accompanied by the leader, passports, visas, excess baggage charges, laundry, personal tips, alcoholic beverages, soft drinks, fruit juice (except at breakfast), room service charges, items not on menu of included meals, personal items, souvenirs, sightseeing not included in the itinerary, insurance of any kind, and telephone calls.
LAND AND AIR RATES: All prices are based on tariff and exchange rates in effect for this tour. Price changes, due either to alterations in tariffs or exchange rates, will be reflected in the prices charged for the tour. KingBird Tours' planning, promotional and operating costs are included in all tour rates.
ACCOMMODATIONS: Based on 2 persons sharing a twin-bedded room. Single rooms will be available at the supplement charge quoted. We'll supply roommates where possible, but cannot guarantee to find roommates for all desiring them. If no roommate is available, the single supplement will be charged for any person utilizing single accommodation. First class or best available hotels with private bath and air-conditioning are provided where available. However, some accommodation will lack air conditioning.
MEALS: All meals are included in the tour price. This will be breakfast, table d'hote lunch and dinner. Box lunches will be utilized on some days. For those joining only a segment of the tour, meals are normally not included when you are not with the main tour group (prior to joining or after leaving).
TOUR ESCORT: The leader of your tour, Dennis Yong, will be with you during the entire tour from the time you reach Kuala Lumpur until you depart from Kuala Lumpur.
TAXES AND GRATUITIES: All necessary gratuities to hotel staff, waiters, local guides, drivers, etc. are included in the tour price. Your tour leader is paid a salary and does not expect tips. Thus it is not necessary to tip anyone on the entire tour. However, if you wish to tip anyone for any reason, it is quite all right. All local government taxes are included in the tour prices.
BAGGAGE: International flight baggage allowance from Los Angeles to Kuala Lumpur and return on Malaysian Airlines is two pieces. Each bag may weigh up to 32 kilograms (70 lbs.) and have a maximum total dimension (length, width, and height added up) of 158 cm. (62"). Note that US-based airlines now allow 2 bags on international flights, each weighing a maximum of 23 kg (50 lbs.). However, on internal flights in Malaysia you are allowed a maximum of 20 kg. (44 lbs.). They are likely to weigh your luggage carefully at least once or twice and perhaps each time. You will be responsible for any excess baggage charges. You are allowed only one carry-on bag; occasionally a zealous agent will demand that the rule be followed. Air carrier's liability for baggage loss is limited and therefore baggage insurance is recommended and available at nominal rates. Baggage insurance forms will be included along with your interim invoice.

SMOKING RULES:
(1) NO smoking in vehicles.
(2) NO smoking at meal tables.
(3) NO smoking in bedrooms if your roommate does not smoke.
(4) The smoker is expected to see that his smoke does not move toward other tour members, at all times.
(5) Anyone smoking will be last in line on single-file paths or trails.
---