INDONESIA TOUR
JAVA, BALI
21 days

Indonesia is the richest, most diverse and fascinating tropical archipelago in the world. Its 13,000 islands contain approximately 1,500 species of birds, including a great many endemics and some of the world's least known birds. Our trip encompasses a wonderful variety of habitats and scenery: tropical rain forest remnants, montane moss forest, deciduous forest, savanna, mangroves, sandy beaches, a breeding bird islet teeming with waterbirds, marshes, and mud-flats.
Indonesia is comprised of three main faunal areas: the Greater Sundas (Sumatra, Java, Borneo and Bali), Wallacea (Lesser Sundas, Sulawesi and the Moluccas), and Irian Jaya (West New Guinea). Our tour will concentrate on the Greater Sunda islands of Java and Bali and yield about 200 species, likely including: 2 or 3 frigatebirds (including Christmas), Milky Stork, Sunda Teal, Green Junglefowl, Green Peafowl, Javan Plover, 6 or 7 terns, 8 pigeons, Yellow-throated Hanging-Parrot, Javan Owlet, 3 kingfishers, several hornbills, 3 barbets, 4 woodpeckers, Banded Pitta, Sunda Minivet, 5 bulbuls, Sunda Robin, Sunda Forktail, about 10 babblers (including some nice endemics), Javan Tesia, 8 flycatchers, 3 flowerpeckers, 4 sunbirds, a spiderhunter, and Java Sparrow. We will see about 30 of Indonesia's endemic species. With a little luck, we might see Chestnut-bellied Partridge, Salvadori's Nightjar, Waterfall Swift (Giant Swiftlet), or Blue-tailed Trogon.
Of special interest is the Bali Myna, a mystical white creature now reduced to only a few individuals in the wild. We have a chance to see it but it is not at all certain.
The food will range from okay to excellent. Accommodations will mostly be comfortable, ranging from basic to first class. Anyone in good health and average fitness will be able to enjoy this one. It is only moderately physically demanding. There will be some uphill and downhill trails, but all walking will be slow. The trip will be during the dryer season, but there may be an occasional rain.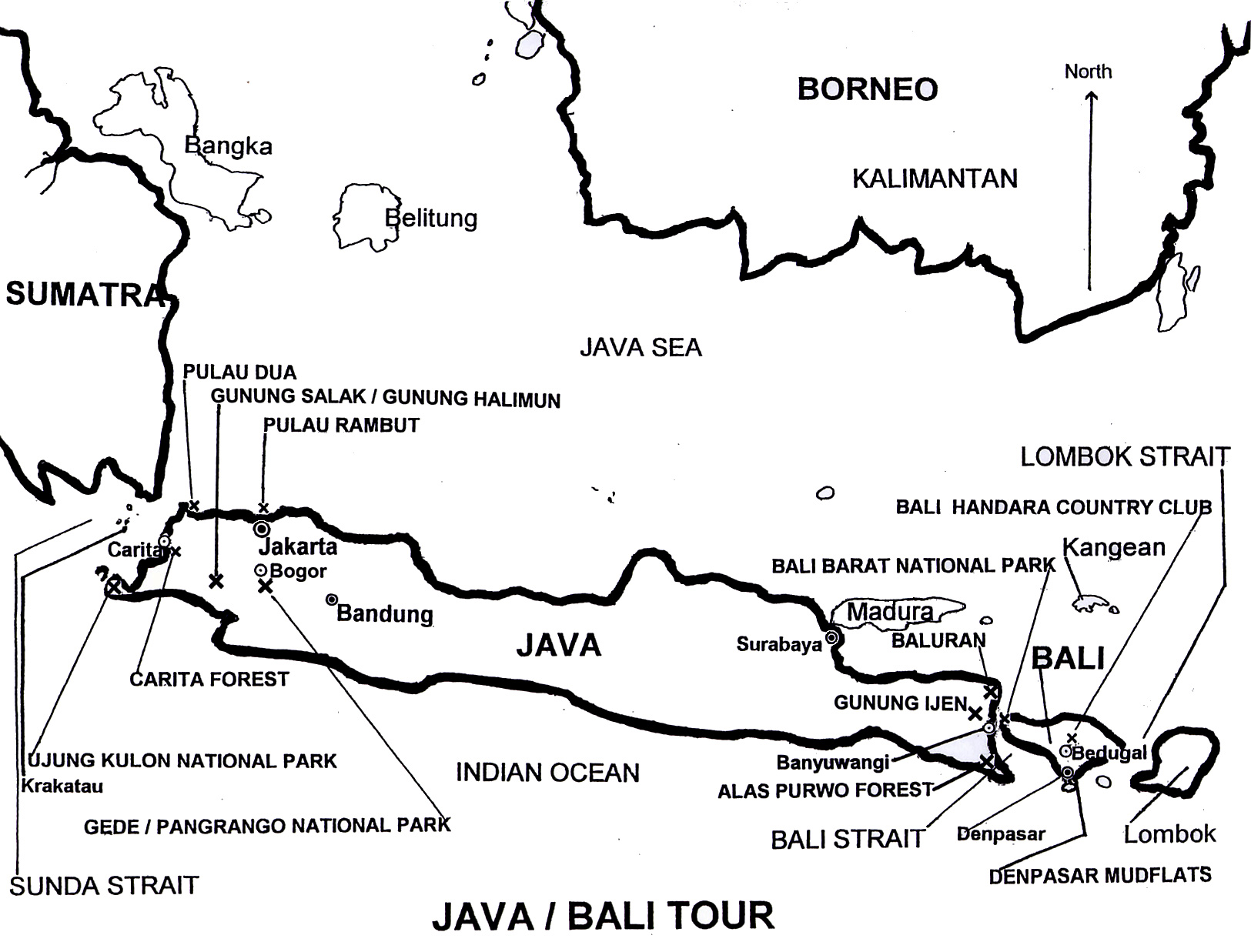 THE LEADER
BEN KING, the president of KingBird Tours, is the most experienced bird-tour leader in the Asian region, having led 144 tours and seen over 2,100 species of birds there. He has written A Field Guide to the Birds of South-East Asia and Checklist of the Birds of Eurasia. His three years of birding experience in Indonesia includes leading our 28 tours there, in addition to visiting most parts of the archipelago. He has seen all but one of the species ever recorded on Bali, and all but 2 of the Javan avifauna. His knowledge of the birds, their habits and where they are found assures you of the best possible birding experience in Indonesia.

THE BIRDING SITES
WEST JAVA
JAKARTA MARSH (1 day) is a good place to see Oriental Darter, Purple Heron, Javan Pond-Heron, White-browed Crake, Purple Swamphen, Island Turtle-Dove, Pink-necked Pigeon, Plaintive Cuckoo, Cave Swiftlet, Sacred and Cerulean Kingfishers, Sunda and Fulvous-breasted Woodpeckers, Clamorous Reed-Warbler, Bar-winged Prinia, Ashy Tailorbird, Mangrove Blue Flycatcher, Yellow-breasted Gerygone, Scarlet-headed Flowerpecker, and Javan Myna. With luck, we might see Yellow, Cinnamon or Black Bittern, Milky Stork, Glossy Ibis, Sunda Teal, Slaty-breasted Rail, Ruddy-breasted Crake, Sunda Coucal, Streaked Weaver, or Racket-tailed Treepie.
PULAU RAMBUT (1 day) is a small island reserve near Jakarta just covered with birds: Pacific Reef-Egret, other egrets, Milky Storks, Glossy and Black-headed Ibises, White-bellied Sea-Eagle, etc. Enroute we should see 2 or 3 species of frigatebirds (including Christmas), Black-naped Tern, Great and Lesser Crested Terns, etc.
BOGOR BOTANICAL GARDENS (1 day). We'll look for Black-naped Fruit-Dove, Blue-eared Kingfisher, Olive-backed Tailorbird, and Scarlet-headed Flowerpecker here.
GEDE/PANGRANGO NATIONAL PARK (3 days) was battered by a recent typhoon, but remains one of the best montane forest reserves in Java. In fact, the downed trees opened up the canopy, making it easier to see the birds there. Nearly all the Javan montane endemics are here and we'll see most of them as well as some other fine birds: Spotted Kestrel, Pink-headed Fruit-Dove, Volcano Swiflet, Brown-throated and Flame-fronted Barbets, Crimson-winged Woodpecker, Sunda Cuckooshrike, Lesser and White-browed Shortwings, Sunda Robin, Sunda Forktail, Sunda Whistlingthrush, Chestnut backed Scimitar-Babbler, Eye-browed and Pygmy Wren-Babblers, White-bibbed and Crescent-chested Babblers, Rufous-fronted Laughingthrush, Chestnut-fronted Shrike-Babbler, Javan Fulvetta, Spotted Crocias, Javan Tesia, Sunda Bush-Warbler, Sunda Warbler, Rufous-tailed and White-bellied Fantails, Pygmy Tit, Blue Nuthatch, Blood-breasted Flowerpecker, White-flanked Sunbird, and Grey-throated Ibon. There is a chance to see Javan Hawk-Eagle, Chestnut-bellied Partridge, Javan Scops-Owl, Salvadori's Nightjar, Waterfall Swift (Giant Swiftlet), Blue-tailed Trogon, Javan Cochoa, Mountain Serin, or Tawny or Pin-tailed Parrotfinch. Accommodation basic.
GUNUNG SALAK/GUNUNG HALIMUN (2 days) is a midmontane forested area with a good road system that allows easy access. It is a good site for Waterfall Swift, Dark-backed Imperial Pigeon and Javan Cochoa, as well as for some commoner species we might miss at Gede-Pangrango. Accommodation quite comfortable.
CARITA (2 days) has some remnant patches of forest nearby that are good for Javan Hawk Eagle, Red Junglefowl, Black-naped Fruit-Dove, Javan Owlet, Banded (maybe) and Javan Kingfishers, Black-banded Barbet, Banded Broadbill, Black-winged Flycatcher-shrike, Chestnut-capped Thrush, Black-capped and White-breasted Babblers, Grey-cheeked Tit-Babbler, Olive-backed Tailorbird, Crimson breasted Flowerpecker, and Javan Sunbird. Accommodation comfortable hotel.
UJUNG KULON NATIONAL PARK (3 days) lies on the extreme southwest corner of Java, and is home for a few of the extremely endangered Javan Rhinoceros. It's unlikely we'll see the rhino, but we'll see some great birds including: Green Junglefowl, the endangered Green Peafowl, Ruddy Cuckoo Dove, Sunda Scops-Owl, Buffy Fish-Owl, Large-tailed Nightjar, Rufous-backed Kingfisher, Wreathed, Malaysian Pied, and Rhinoceros Hornbills, Speckled Piculet, Banded Pitta, White-crowned Forktail, Temminck's and Horsfield's Babblers, Large Wren-Babbler, Grey-cheeked Babbler, Fulvous-chested Flycatcher, Mangrove Whistler, Yellow-vented Flowerpecker, Ruby-cheeked Sunbird, and Javan Munia. The Banteng, a fine cow, is readily seen here. Accommodation basic.
PULAU DUA (half day) is a good site for Javan White-eye.
EAST JAVA
GUNUNG IJEN (2 days) is part of a volcanic crater complex reaching up to 3,332 m. (11,100 ft.) in extreme eastern Java. Roadside birding up to 1,850 m. (6,200 ft.) is likely to produce the following: Javan Hawk-Eagle, Barred and Little Cuckoo-Doves, Grey-cheeked Pigeon, Pink-headed Fruit-Dove (maybe), Dark backed Imperial Pigeon, Blue-tailed and Orange-breasted Trogons, Black-banded Barbet, Sunda Minivet, Orange-spotted and Sunda Bulbuls, Javan Bush-Warbler, Indigo Flycatcher, Golden Whistler, White-flanked Sunbird, and Crested Jay (maybe). The eastern Java race (a likely split) of the Grey-breasted Partridge is fairly common but difficult to see. Accommodation basic.
ALAS PURWO FOREST (half day) and BALURAN (half day) are savanna interspersed by patches of deciduous forest. Banteng (a superb cow) and Water Buffalo are common here along with Crested Serpent-Eagle, Changeable Hawk-Eagle, Green Junglefowl, Green Peafowl, Island Turtle-Dove, Spotted Wood-Owl, Large-tailed Nightjar, Wreathed Hornbill, Banded Pitta, White-shouldered Triller, etc. With luck, we might see a Java Sparrow.
BALI
In spite of the fact that BALI has been mostly deforested, this exquisite island remains one of the most idyllic spots on earth. It has a laid-back, friendly ambiance coupled with a sensuous tropical aura that is at once relaxing and intensely romantic.
BALI BARAT NATIONAL PARK (1 day) is the last stand of the Bali Myna. They are not easy to see, but we have a chance. Other possible birds are: Great-billed Heron, Wandering Whistlingduck, Beach Thick-knee, Pink-necked Pigeon, Red-breasted Parakeet, Cerulean Kingfisher, Common Flameback, Olive-backed Tailorbird, Mangrove Whistler, Black-winged Starling, Javan Myna, etc.
BALI HANDARA COUNTRY CLUB (2 days) is situated right next to a nice patch of montane forest. We'll have a relaxing time here looking for Black Eagle, Grey-cheeked Pigeon, Yellow-throated Hanging-Parrot, Flame-fronted Barbet, Blood-breasted Flowerpecker, Sunda Honeyeater, Javan Munia, Short-tailed Starling, etc. With luck, we might see a Dark-backed Imperial Pigeon, Orange-headed Thrush or Javan Bush-Warbler.
DENPASAR MUDFLATS (half day) offer us a fine opportunity to see 3 recently split species: Sunda Teal (from Grey Teal); Javan Plover (from Kentish Plover); and Cave Swiftlet (from Glossy Swiftlet). We may also see Slaty-breasted Rail, White-browed and Ruddy-breasted Crakes, a few shorebirds, Island Collared-Dove, Javan and White-headed Munias, and Streaked Weaver.
ITINERARY
| | |
| --- | --- |
| Monday | Arrive Jakarta. Overnight Harris Hotel. |
| 18 days | On tour. |
| Saturday | AM birding Denpasar mudflats. Depart Denpasar. |
AIR CONSIDERATIONS: The tour begins in Jakarta and ends in Denpasar. We will purchase the Jakarta/Denpasar ticket for you in Indonesia.
PARTICIPANT LIMIT: 10 persons, plus the leader.
LAND PRICE BASIS: Land price is based on the number of participants.
LAND PRICE INCLUDES: Land price includes all ground transportation, double occupancy hotel rooms, all meals, bottled water at meals, guides, tips, fees, and airport taxes when accompanied by the leader. NOT INCLUDED are airport taxes when not accompanied by the leader, passports, visas, service charges for obtaining visas, excess baggage charges, medical examinations or treatment, meal or other charges incurred which are not part of the itinerary (caused by unforeseen delay beyond our control), mineral waters, room service charges, items not on menu of included meals, personal items, souvenirs, sightseeing not included in the itinerary, insurance of any kind, and telephone calls.
LAND AND AIR RATES: All prices are based on tariff and exchange rates in effect for this tour. Price changes, due either to alterations in tariffs or exchange rates, will be reflected in the prices charged for the tour. KingBird Tours' planning, promotional and operating costs are included in all tour rates.
ACCOMMODATIONS: Based on 2 persons sharing a twin-bedded room. Single rooms will be available at the supplement charge quoted. In some of the more remote areas, however, single rooms are unavailable. We'll supply room-mates where possible, but cannot guarantee to find roommates for all desiring them. If no roommate is available, the single-supplement will be charged for any person utilizing single accommodation. First class or best available hotels with private bath and air-conditioning are provided where available. However, some accommodation will be basic.
MEALS: All meals are included in the tour price. This will be breakfast, table d'hôte lunch and dinner. A la carte meals will be provided at some hotels. Box lunches will be utilized on some days. For those joining only a segment of the tour, meals are normally not included when you are not with the main tour group (prior to joining or after leaving).
TOUR ESCORT: The leader of your tour, Ben King, the president of KingBird Tours, will be with you during the entire tour from the time you reach Jakarta until you depart fromDenpasar, Bali.
TAXES AND GRATUITIES: All necessary gratuities to hotel staff, waiters, local guides, drivers, etc., are included in the tour price. Your tour leader is paid a salary and does not expect tips. Thus it is not necessary to tip anyone on the entire tour. However, if you wish to tip anyone for any reason, it is quite all right. All local government taxes are included in the tour price.
AIRPORT TAXES: These will be paid by your leader when he is accompanying you. When he is not with you, these taxes are your own responsibility.
BAGGAGE: International flight baggage allowance from USA to Jakarta and return is two pieces, each weighing up to 32 kilograms (70 pounds) of standard luggage dimension. However, on internal flights in Indonesia you are allowed a maximum of 20 kg. (44 lbs.) They are likely to weigh your luggage carefully at least once or twice and perhaps each time. You will be responsible for any excess baggage charges. Charges are not high however, so bring what you need. You are allowed one carry-on bag on all flights. Air carrier's liability for baggage loss is limited and therefore baggage insurance is recommended and available at nominal rates. Baggage insurance forms will be included along with your interim invoice.
SMOKING RULES:
(1) NO smoking in vehicles. (2) NO smoking at meal tables. (3) NO smoking in bedrooms if your roommate does not smoke. (4) The smoker is expected to see that his smoke does not move toward the other tour members, at all times. (5) Anyone smoking will be last in line on single-file paths or trails.
---