GRAND NE INDIA
Mishmi Hills in the NE Himalayas of NE Arunachal Pradesh
Kaziranga and Dibru-Saikhowa National Parks in Assam
Khasi Hills in Meghalaya
24 days
We've long dreamed of being able to offer a road-based tour in NE India that offered not only the extraordinarily rich Brahmaputra River Valley but also the NE Himalayas. Recently the Indian government has begun to allow a few tourists into the fabulously rich mountains of Arunachal Pradesh, which resulted in our exciting and successful pioneering tours into the Mishmi Hills in NE Arunachal Pradesh in November 2004, March 2007, and March 2008.
The area of NE Arunachal Pradesh, SE Tibet, NW Yunnan and northern Burma has one of the highest annual rainfalls on earth, coupled with an extreme altitudinal gradient, resulting in lush plant growth and the highest diversity of mountain birds in the whole of Asia. Species diversity declines in every direction from this core. Closed to foreigners since the end of World War II, this area has been opening recently by ever-increasing cracks, offering some of the world's most exciting birding.
Our birding will range from the Brahmaputra River Valley at about 100 meters (330 ft.) to Mayodya Pass at 2,625m. (8,750 ft.) in the Mishmi Hills, one of the least inhabited areas of Arunachal Pradesh. There are some good forest patches left, giving us an excellent opportunity to sample the eastern Himalayan forest birds. As this will be one of the few birding tours to this area, it is still in the exploration and discovery stage, adding to its excitement.
In addition to the Mishmi Hills, we'll visit 2 national parks in the Brahmaputra River Valley, Kaziranga and Dibru-Saikowa, with their extensive grasslands, wetlands and riverine forests and the full complement of the area's birds. A day in the wetlands of the Digboi oilfields will give us a chance of seeing a White-winged Duck. A short visit to the Khasi Hills south of the Brahmaputra in Meghalaya for some of its special birds will round out our tour.
Some of the more exciting birds we're likely to see are: Spot-billed Pelican, Greater Adjutant, Pallas's Fish-Eagle, Slender-billed Vulture, Pied Harrier, Indian Spotted Eagle, Swamp Francolin, Hill Partridge, Blyth's Tragopan, Kalij Pheasant, Bengal Florican, Pin-tailed Pigeon, Dark-rumped Swift, Ward's Trogon, Streak-throated Woodpecker, Rufous-winged Bushlark, Crested Finchbill, White-throated Bulbul, Jerdon's Bushchat, Marsh and Spot-throated Babblers, Large, Red-billed, Coral-billed and Slender-billed Scimitar-Babblers, Rusty-throated, Spotted, and Tawny-breasted Wren-Babblers, Cachar Wedge-billed Babbler, Jerdon's and Slender-billed Babblers, Chestnut-backed and Rufous-vented Laughingthrushes, Red-faced Liocichla, Red-billed Leiothrix, Black-headed Shrike-Babbler, White-hooded Babbler, Streak-throated Barwing, Golden-breasted, Yellow-throated, Streak-throated, Brown-headed, Rufous-throated, and Rusty-capped Fulvettas, Grey and Beautiful Sibias, White-naped and Black-chinned Yuhinas, Black-breasted, Pale-billed (Lesser Rufous-headed) and Rufous-headed Parrotbills, Chestnut-crowned and Spotted Bush-Warblers, Rufous-rumped Grassbird, Swamp Prinia, Smoky Warbler, Broad-billed, Rufous-faced and Black-faced Warblers, Pale-chinned and Pygmy Blue Flycatchers, Brown Bullfinch, Gold-naped Finch, and Spot-winged Starling.
Possible are: Oriental Hobby, Chestnut-breasted Partridge, Blood Pheasant, Pale-headed Woodpecker, Gould's or Rusty-bellied Shortwings, Golden Bush-Robin, Blue-fronted Robin, Purple or Green Cochoas, Fire-tailed Myzornis, Rufous-fronted Tit, Beautiful Nuthatch, Yellow-bellied Flowerpecker, Fire-tailed Sunbird, Tibetan Serin, Yellow-breasted Greenfinch, Scarlet Finch, and Collared Treepie.
Anyone in good health and moderate physical condition will take this trip in stride. Most of our birding will be along the road and adjacent trails. Accommodation in Delhi is first class, rustic in guesthouses in the Mishmi Hills and okay to pleasant elsewhere on the tour. While tour time is normally a dryer time of the year, we will have some rain and it could be heavy. Snow is possible at high elevations. It will be warm in the lowlands and cool to cold at high elevations.
This is a trip for the more adventurous, who like the idea of traveling in remote, rarely visited areas, and who can tolerate or even enjoy poor accommodations and simple food. If you like exploration in basic conditions, this one is for you. Arunachal Pradesh has had only a few tourists, has no tourist infrastructure and is generally not ready for us. On the flip side, the tourist folks who'll be looking after us are fine people, very helpful and quite competent. Assam and Meghalaya are better equipped to handle tourists, but not up to international standards.
THE LEADER
BEN KING, president of KingBird Tours, has led 48 tours to the Indian Region and is one of the most experienced bird-tour leaders on the subcontinent, having spent over 3 years birding there. He has written A Field Guide to the Birds of South-East Asia and Checklist of the Birds of Eurasia. He has seen over 2,100 species of birds in Asia, including all but 17 of the 1,356 species known to occur in the Indian Subcontinent. His knowledge of the birds, their habits and where they are found assures you of the best possible birding experience in India.
THE BIRDING SITES
SHILLONG (3 days) is situated at 1,525 meters (5,100 ft.) elevation in the southern hill region of northeastern India. We'll look into several scattered patches of remnant forest 1,000-1,740 m. (3,300-5,900 ft.). We'll also visit one of the two known breeding sites of the Dark-rumped Swift near Cherrapungee. Some of the birds of this area are: Bonelli's Eagle, Grey Nightjar, Himalayan Swiftlet, Dusky Crag-Martin, Crested Finchbill, Himalayan Bush-Robin, Spotted Forktail, Streak-breasted Scimitar-Babbler, Spotted and Tawny-breasted Wren-Babblers, Assam Laughingthrush (Garrulax chrysopterum), Red-billed Leiothrix, Rusty-fronted Barwing, Rusty-capped Fulvetta, Grey Sibia, Whiskered Yuhina, Black-throated Prinia, Grey-hooded Warbler, Large Niltava, Pygmy Blue Flycatcher, Yellow-cheeked Tit, Gould's and Green-tailed Sunbirds, Little Bunting, Russet Sparrow, and Maroon Oriole. Accommodation in a comfortable hotel.
KAZIRANGA NATIONAL PARK (4 days) is one of the world's greatest natural treasures; the easily seen Indian Elephant, Indian Rhinoceros and Water Buffalo give it a primeval feeling long lost from most of Asia. Birding is superb. Some of the more exciting species are: Spot-billed Pelican, Greater Adjutant, Pallas's Fish-Eagle, Indian Spotted Eagle, Swamp Francolin, and Bengal Florican. The park is situated in the southern flood plain of the Brahmaputra River Valley and stretches to the adjacent hills, encompassing vast grasslands, interspersed with extensive wetlands and patches of riverrine forest. Other likely species are: Asian Cattle-Egret (Bubulcus coromandus), Asian Openbill, Black, Wooly-necked, and Black-necked Storks, Lesser Adjutant, Black-headed Ibis, Bar-headed Goose, Ruddy and Common Shelducks, Cotton Pygmy Goose, Falcated Duck, Ferruginous Pochard, Jerdon's Baza, Grey-headed Fish-Eagle, Pied Harrier, Eastern Marsh-Harrier, Greater Spotted Eagle, Changeable Hawk-Eagle, Kalij Pheasant, Pheasant-tailed and Bronze-winged Jacanas, Northern and Grey-headed Lapwings, Pntail Snipe, River Tern, Yellow-footed Pigeon, Blossom-headed Parakeet, Brown Fish-Owl, Blue-bearded Bee-eater, Oriental Pied and Great Hornbills, Streak-throated Woodpecker, Black-rumped Flameback, Rufous-winged Bushlark, Yellow-hooded Wagtail, Rosy Minivet, White-tailed Rubythroat, Chestnut-capped, Striated and Slender-billed Babblers, Pale-chinned Flycatcher, Spot-winged Starling, and Large-billed Crow (Corvus levaillantii). Possible are: Pale-capped Pigeon, Blue-naped Pitta, and Black-breasted Parrotbill. A tiger sighting is a remote possibility. Accommodation in an attractive eco-lodge.
DIBRU-SAIKHOWA NATIONAL PARK (2 days) is situated on an island in the upper Brahmaputra River. With its extensive grasslands, wetlands, and riverrine forests, it is home to three Indian endemic species with very limited ranges: Marsh and Jerdon's Babblers, and Swamp Prinia. Several other very limited range species possible here are Jerdon's Bushchat, Black-breasted Parrotbill, and Bristled and Rufous-rumped Grassbirds. Some other birds we may see are: Slender-billed Vulture, Pale-capped Pigeon, Asian Barred Owlet, Wreathed Hornbill, Fulvous-breasted Woodpecker, Sand Lark, Buff-chested Babbler, Rufous-necked Laughing-thrush, Chestut-crowned and Spotted Bush-Warblers, and Smoky Warbler. Gangetic Dolphin is rather likely. Accommodation basic hotel.
The DIGBOI OILFIELD (1 day) offers patches of secondary forest and small lakes and pools and some interesting birds. With luck we may see a White-winged Duck. More likely are: Black-backed Forktail, Chestnut-backed Laughingthrush, Rufous-throated Fulvetta, Blue-throated Flycatcher, and Collared Treepie.
The MISHMI HILLS (10 days) are situated in the extreme northeastern corner of India in the NE Himalayas and are among the ornithologically least explored areas in all of Asia. We'll have 10 days to explore these mountains in the front range of the Himalayas right from their base in the Brahmaputra flood plain at about 220m. (730 ft.) to nearly 2,800 m. (9,300 ft.). There are still some good forest patches here and there are lots of birds. On our exploratory tour in November 2004, we rediscovered the Rusty-throated Wren-Babbler, known previously from a netted specimen collected in 1947. We found it common and expect to see it. Some likely species are: Himalayan Griffon, Eurasian Sparrowhawk, Black Eagle, Rufous-bellied Eagle, Mountain Hawk-Eagle, Hill Partridge, Blyth's Tragopan, Pin-tailed and Wedge-tailed Pigeons, Red-headed and Ward's Trogons, Rufous-necked Hornbill, Crimson-breasted, Darjeeling and Bay Woodpeckers, Long-tailed Broadbill, Nepal House-Martin, Rosy Pipit, White-throated Bulbul, Maroon-backed Accentor, Daurian Redstart, Little and Slaty-backed Forktails, Spot-throated Babbler, 6 scimitar-babblers (including Large, Red-billed, Coral-billed and Slender-billed), Cachar Wedge-billed Babbler, 10 laughingthrushes (including Rufous-vented, Rufous-chinned, Spotted, Grey-sided, Blue-winged and Scaly), Red-faced Liocichla, Silver-eared Mesia, Black-headed, Green, and Black-eared Shrike-Babblers, White-hooded Babbler, Streak-throated Barwing, all 3 minlas, 6 fulvettas (including Golden-breasted, Yellow-throated, Streak-throated and Brown-headed), Beautiful Sibia, 7 yuhinas (including White-naped and Black-chinned), 3 or 4 parrotbills (including Pale-billed and Rufous-headed), all 3 tesias, several bush-warblers, a good selection of Phylloscopus warblers, White-spectacled, Broad-billed, Rufous-faced and Black-faced Warblers, White-gorgetted Flycatcher, Yellow-bellied Fantail, Yellow-browed and Sultan Tits, White-tailed Nuthatch, Dark-rumped Rosefinch, Crimson-browed Finch, Brown Bullfinch, Gold-naped Finch, Green Magpie, and Himalayan Crow (Corvus japonensis). With luck, we might see Oriental Hobby, Chestnut-breasted Partridge, Pale-headed Woodpecker, Gould's or Rusty-bellied Shortwing, White-browed or Rufous-breasted Bush-Robin, Green Cochoa, Long-tailed or Long-billed Thrush, Spot-throated Parrotbill, Fire-tailed Myzornis, or Beautiful Nuthatch. Accommodation in 3 basic resthouses.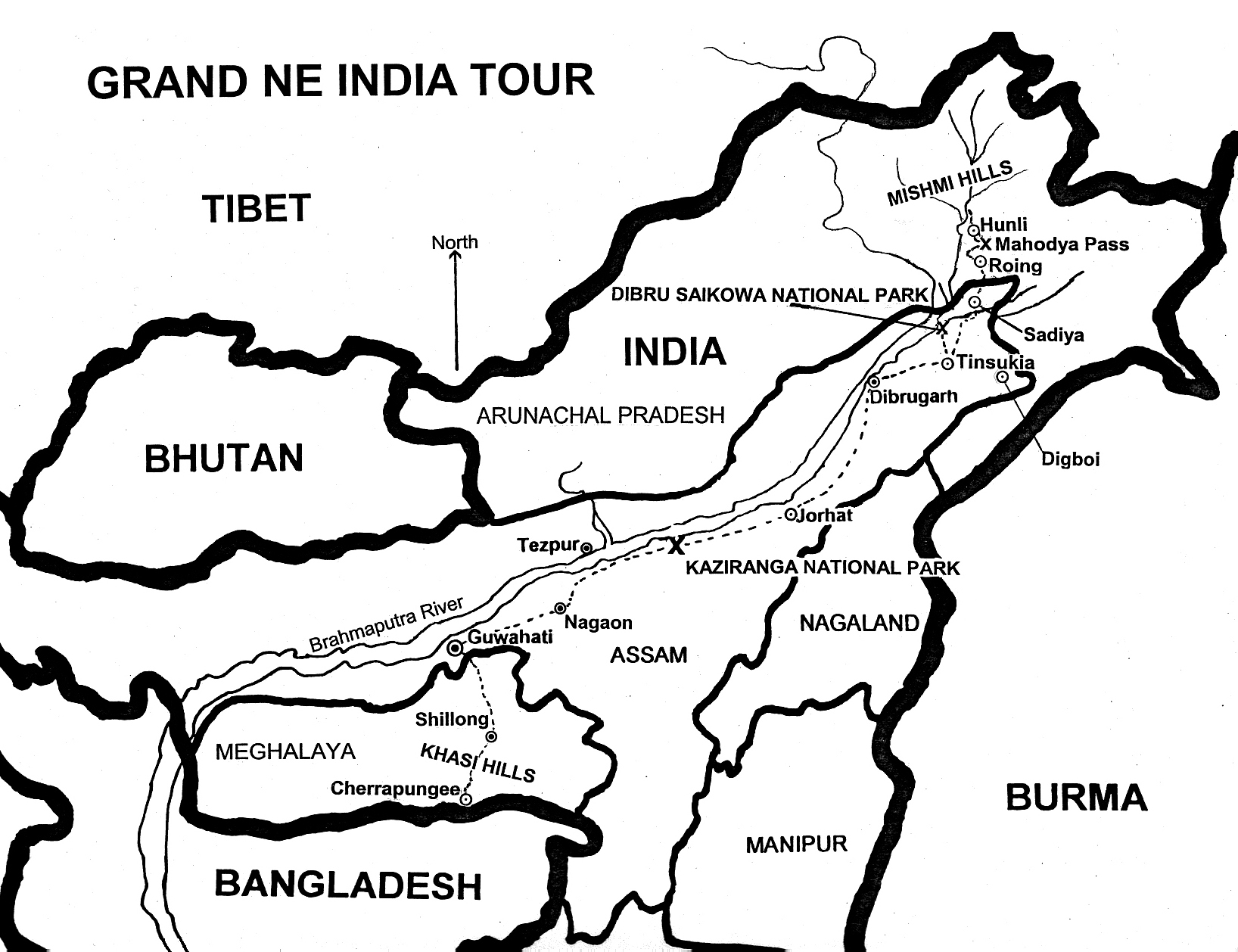 ITINERARY
| | |
| --- | --- |
| Saturday | Arrive Delhi. Overnight Ambassador Hotel. |
| Sunday | Fly Delhi/Guwahati. Drive Shillong. Overnight Shillong. |
| 19 days | On tour. |
| Saturday | Drive Roing/Dibrugarh. Fly Dibrugarh/Delhi. Overnight Ambassador Hotel. |
| Sunday | Depart Delhi. |
---
AIR CONSIDERATIONS: The tour begins and ends in Delhi. We will be purchasing your Delhi/Guwahati and Dibrugarh/Delhi tickets in order to insure keeping the group together. Please plan to arrive in Delhi a day or two early to ensure timely arrival and have some time to get over jet lag.
LAND PRICE/NUMBER OF PARTICIPANTS: The land price is based onthe number of participants. The maximum number of participants will be 10.
LAND PRICE INCLUDES: Land price includes all ground transportation, double occupancy hotel rooms, all meals, bottled water/soft drinks at meals, guides, tips, fees, and foreign airport taxes when accompanied by the leader. NOT INCLUDED are airport taxes when not accompanied by the leader, passports, visas, service charges for obtaining visas, excess baggage charges, camera fees, laundry, personal tips, alcoholic beverages, fruit juice (except at breakfast), room service charges, items not on menu of included meals, personal items, souvenirs, sightseeing not included in the itinerary, insurance of any kind, and telephone calls. For those joining only part of a tour, meals taken before and after leaving the group are normally not included.
LAND AND AIR RATES: All prices are based on current tariff and exchange rates for this tour. Price changes, due either to alterations in tariffs or exchange rates, will be reflected in the prices charged for the tour. KingBird Tours' planning, promotional and operating costs are included in all tour rates.
ACCOMMODATIONS: Based on two persons sharing a twin-bedded room. Single rooms will be available at the supplement charge quoted. In some of the more remote areas, however, single rooms are unavailable. We'll supply roommates where possible, but cannot guarantee to find roommates for all desiring them. If no roommate is available, the single supplement will be charged for any person utilizing single accommodation. First class hotel with private bath and air-conditioning is provided in Delhi. However, all other accommodation will be basic to primitive.
MEALS: All meals will be provided, i.e. breakfast, table d'hote lunch, and dinner. A la carte meals will be provided only in Delhi. Box lunches will be utilized on some days.
TOUR ESCORT: The leader of your tour, Ben King, will be with you during the entire tour from the time you reach Delhi until you depart from Delhi. There will also be a representative of the local tour company with the group at all times to assist wherever he may.
TAXES AND GRATUITIES: All necessary gratuities to hotel staff, waiters, local guides, drivers, etc. are included in the tour price. Thus it is NOT necessary to tip anyone on the entire tour. However, if you wish to tip anyone for special services, or because you like them, it is quite all right. All local government taxes are included in the tour price.
LOCAL FEES: All park entry fees are included in the tour price. Still camera fees are included. Video and movie camera fees are NOT included. (Most parks have camera fees, the video and movie camera fees often excessive).
BAGGAGE: International flight baggage allowance from New York to India is two pieces with a maximum total dimension (length, width, height of both pieces added up) of 106 inches. Note that most USA-based airlines now allow only 23 kg (50 lbs.)/bag—there will be a surcharge for any excess up to 32 kg.(70 lbs.). On many foreign airlines, each bag may weigh up to 32 kilograms (70 pounds). However, all internal flights in India allow a maximum of 20 kg. (44 lbs.). They are likely to weigh your luggage carefully at least once or twice and perhaps each time. You will be responsible for any excess baggage charges. You are allowed one carry-on bag on all flights. Technically the 44-pound limit includes your carry-on bag and occasionally a zealous agent will demand that the rules be followed. Air carrier's liability for baggage loss is limited and therefore baggage insurance is recommended and available at nominal rates.
SMOKING RULES: (1) NO smoking in vehicles. (2) NO smoking at meal tables. (3) NO smoking in bedrooms if your roommate does not smoke. (4) The smoker is expected to see that his smoke does not move toward other tour members, at all times. (5) Anyone smoking will be last in line on single-file paths or trails.
---