CAMBODIA TOUR
Giant Ibis, White-shouldered Ibis, White-winged Duck
21 days
Virtually closed to western tourists for 25 years because of civil war, poor security and political instability, Cambodia is now emerging as a prime birding destination. The severe poverty of the country, combined with its political turbulence, prevented the rampant development seen over most of eastern Asia. This has left Cambodia in a kind of time warp, allowing us a look at its more natural past, with good forested areas and some of the most prolific wetland areas in SE Asia. Recent improvements in roads, infrastructure and public safety now allow us to offer a fine comprehensive birding tour of Cambodia's unique birding sites.
The centerpiece of our tour is the likelihood of being able to see 3 of the world's most critically endangered birds, the Giant Ibis, White-shouldered Ibis, and White-winged Duck. Breeding sites for all three species in north central Cambodia have been found, and a protection project by the Wildlife Conservation Society there is working to ensure the continued existence of these fascinating birds. Ecotourism is part of this program and our stay will benefit the villagers in whose hands the future of these birds lies. Among the other special species the tour offers are: Spot-billed Pelican, Milky Stork, Greater Adjutant, White-rumped and Slender-billed Vultures, Rufous-winged Buzzard, White-rumped Falcon, Chestnut-headed Partridge, Bengal Florican, Pale-capped Pigeon (with luck), Black-headed Woodpecker, Mekong Wagtail, Brown-rumped Minivet, and Manchurian Reed-Warbler (maybe).
Other exciting possible birds are Indian Cormorant, Black-necked Stork, Lesser Adjutant, Comb Duck, Black Baza, Grey-headed Fish-Eagle, Red-headed Vulture, Chinese Francolin, Scaly-breasted Partridge, Sarus Crane, Grey-headed and Blossom-headed Parakeets, Pale-rumped Swiftlet, Rufous-bellied, Laced, Streak-throated, Black-and-buff, and Heart-spotted Woodpeckers, Blue-winged Pitta, Burmese Shrike, Streaked Wren-Babbler, and Vinous-breasted Starling.
While our tour is operating during the coolest time of the year in Cambodia, there will be some hot days afield. Our walks to find the ibises will be on sun-baked plains between forest patches and the pools where they feed. Lots of water and oral rehydration salts will be helpful. Our visit to Prek Toal is also likely to be hot. The other areas will not be quite so hot and the walks shorter. Food will be mostly basic but good. Transportation will be by 4-wheel drive vehicles as some of the roads are poor to miserable. Accommodation is first class in Bangkok, comfortable in Siem Reap and Phnom Penh, and basic to rustic elsewhere. While the areas we visit are deemed safe by the local folks, we will be exercising caution as there are still unexploded mines and other munitions throughout the country.
Our tour is operated by a Cambodian non-governmental organization dedicated to conservation under the guidance of the Wildlife Conservation Society. Our visits to several important conservation areas are structured to assist the local folks upon whom the future of the birds rests.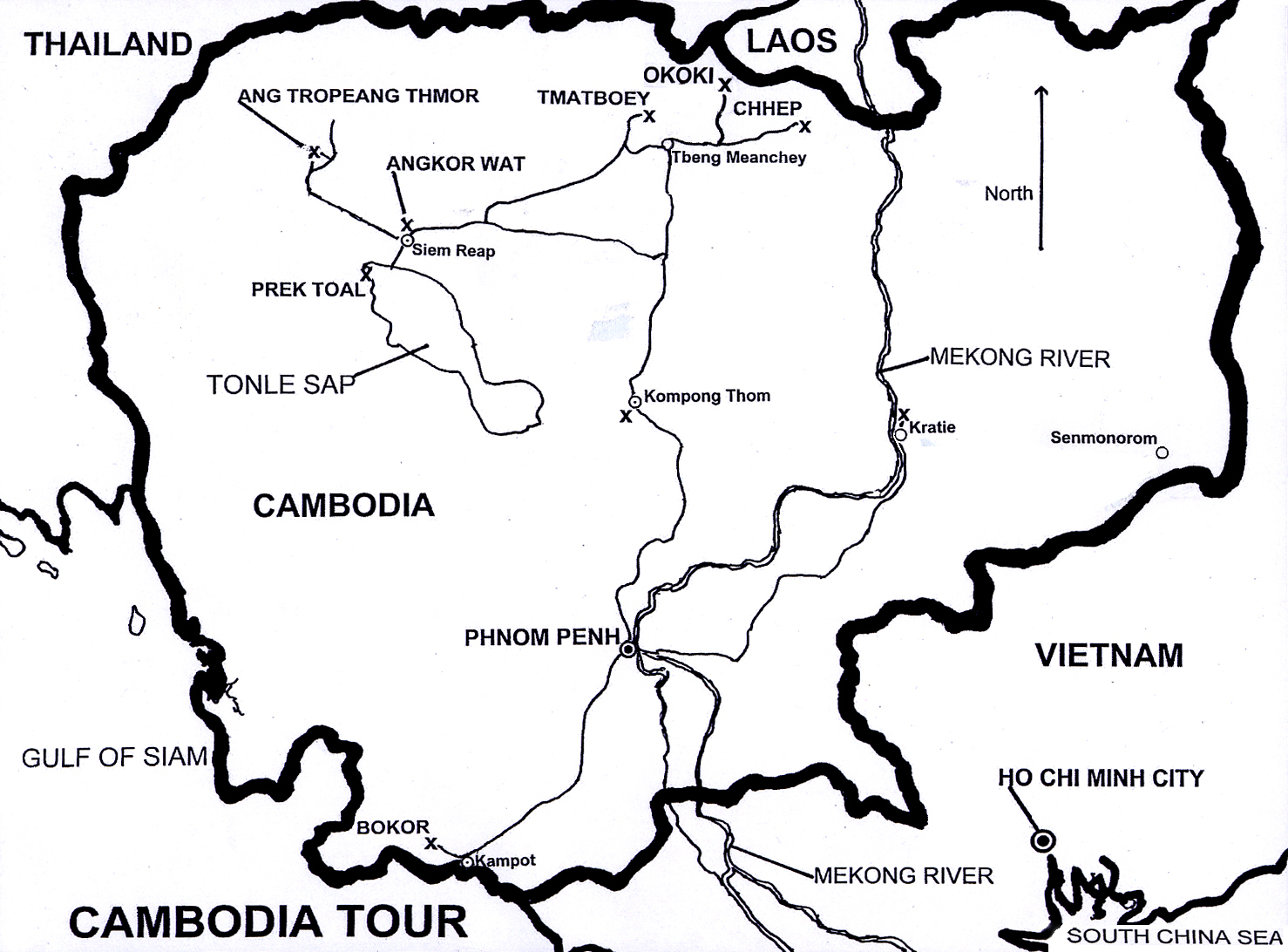 THE LEADER
BEN KING, president of KingBird Tours, has led 144 birding tours to different parts of Asia and is one of the most experienced tour leaders on the continent. His A Field Guide to the Birds of South-East Asia covers Cambodia's birds and he has spent over 6 years birding in various parts of SE Asia: Thailand, Malaya, Burma, Vietnam, Laos and Cambodia, resulting in his seeing all but about 7 or 8 of SE Asia's 1,230+ bird species, and all but 1 or 2 of the species that are known to occur in Cambodia. He has also written Checklist of the Birds of Eurasia. His vast experience and knowledge of Asian birds and their habits will make your trip an enjoyable one.
THE BIRDING SITES
ANGKOR (half day): We'll spend our first afternoon in Cambodia amid one of the most impressive sets of ruins of ancient civilization on earth. Building here started before 1,000 A.D., and the area was occupied until abandoned to the jungle 500 years ago. There are lots of trees here and as we visit some of the ruins we'll have an opportunity to see a few of the more common birds: Shikra, Red-breasted Parakeet, Plaintive Cuckoo, Greater Coucal, Asian Palm-Swift, Lineated and Coppersmith Barbets, Indian Roller, Streak-eared Bulbul, Common Iora, Brown Shrike, Oriental Magpie-Robin, Common Stonechat, Blue Rockthrush, Common Tailorbird, Asian Brown Flycatcher, Pied Fantail, Brown-throated and Olive-backed Sunbirds, Plain-backed Sparrow, Black-collared Starling, White-vented Myna, and Black Drongo. Accommodation comfortable hotel in Siem Reap.
Those who would like a longer look at Angkor could arrive in Siem Reap a few days before the tour group. We can easily arrange this.
PREK TOAL (1 day) is a village at the northern end of Tonle Sap. We'll travel by boat to visit the forested edges of the lake near the village, where there are huge colonies of nesting waterbirds. The stars here are Milky Stork and Greater Adjutant, and with a little luck, we may see both. Other more numerous species are: Great, Indian and Little Cormorants, Oriental Darter, Spot-billed Pelican, lots of herons and egrets, Painted Stork, Asian Openbill, Lesser Adjutant, Black-headed Ibis, Spot-billed Duck, Osprey, Brahminy Kite, Grey-headed Fish-Eagle, Brown-headed Gull, Whiskered Tern, Black-capped and Common Kingfishers, and Blue-tailed Bee-eater.
ANG TROPEANG THMOR (1 day) is a large reservoir surrounded by wet grasslands. Sarus Cranes are often found here, one of the few remaining sites in SE Asia. Birdlife is prolific with: Little Grebe, Asian Cattle Egret (Bubulcus coromandus), Lesser Whistlingduck, Comb Duck, Cotton Pygmy Goose, Eastern Marsh-Harrier, White-browed Crake, Purple Swamphen, Pheasant-tailed and Bronze-winged Jacanas, Greater Paintedsnipe, Red-wattled Lapwing, Asian Golden Plover, Little Plover, Spotted Redshank, Green Sandpiper, Pintail Snipe, Black-winged Stilt, Oriental Pratincole, Pied Kingfisher, Indochinese Bushlark (Mirafra marionae), Yellow Wagtail and Plain Prinia.
TMATBOEY (3 days) lies in Preah Vihear Province in north central Cambodia just south of the border with both Thailand and Laos. The area, much of which is flooded in the summer monsoon season, is plains interspersed with fine patches of open deciduous forest. It is accessible by motor vehicle for only a few months of the year, during the dry season. As the flood waters recede, the remaining water is confined to a series of pools, called trapeangs, where the critically endangered White-shouldered and Giant Ibises feed by probing for their prey in the mud. Both the ibises nest here and we have an excellent chance to see them.
Other possible species are: Woolly-necked Stork, Lesser and Greater Adjutants, Black Baza, Oriental Honey-Kite, Crested Serpent-Eagle, Rufous-winged Buzzard, Changeable Hawk-Eagle, White-rumped Falcon, Collared Falconet, Chinese Francolin, Barred Buttonquail, Indian Thick-knee, Pale-capped Pigeon (with a lot of luck), Pink-necked, Orange-breasted, Thick-billed, and Yellow-footed Pigeons, Vernal Hanging-Parrot, Alexandrine, Grey-headed and Blossom-headed Parakeets, Asian Koel, Green-billed Malkoha, Oriental and Collared Scops-Owls, Asian Barred-Owlet, Brown Boobook, Large-tailed, Indian and Savanna Nightjars, Crested Treeswift, Stork-billed and White-throated Kingfishers, Blue-bearded Bee-eater, Oriental Pied Hornbill, Blue-eared Barbet, Yellow-crowned, Rufous-bellied, White-bellied, Streak-throated, Black-headed, Grey-headed, and Great Slaty Woodpeckers, Blue-winged Pitta, Large and Indochinese Cuckooshrikes, Brown-rumped and Ashy Minivets, Large and Common Wood-shrikes, Sooty-headed Bulbul, Golden-fronted Leafbird, Burmese Shrike, White-rumped Shama, Puff-throated and Chestnut-capped Babblers, White-crested Laughingthrush, Brown Prinia, Radde's Warbler, Red-throated and Tickell's Blue Flycatchers, White-browed Fantail, Chestnut-bellied Nuthatch, Vinous-breasted Starling, Hill Myna, Black-hooded Oriole, Blue Magpie and Racket-tailed Treepie, Accommodation in rustic huts built for visiting birders.
CHHEP (2 days) is a good place to see the critically endangered White-rumped and Slender-billed Vultures (Gyps tenuirostris), as well as the uncommon Red-headed Vulture. Otherwise the area and the birds are similar to Tmatboey. Accommodation a rustic hut.
OKOKI (3 days) is a nice patch of broadleaf evergreen forest along a small winding river surrounded by savanna with deciduous forest patches. There are some small pools of water that are regularly visited by a few resident endangered White-winged Ducks. Several observation blinds adjacent to the pools have been built and we have a good chance to see one of the ducks. Other possible species are: Scaly-breasted Partridge, Red Junglefowl, Drongo Cuckoo, Javan Frogmouth, Great Eared Nightjar, Orange-breasted Trogon, Banded Kingfisher, Great Hornbill, Common and Greater Flamebacks, Banded Broadbill, Puff-throated and Grey-eyed Bulbuls, Abbott's and Scaly-crowned Babblers, Dark-necked Tailorbird, Pale-legged Leaf-Warbler, and Asian Paradise-Flycatcher. Accommodation in tents.
KOMPONG THOM (1 day) is situated in the low plains at the eastern end of Cambodia's large lake, Tonle Sap. Near here, in a seasonally flooded area which is rich in waterbirds, is a scattered colony of Bengal Floricans. We'll spend a morning here looking for the florican and other birds such as: Painted and Black-necked (maybe) Storks, Pied Harrier, Greater Spotted Eagle, Blue-breasted Quail, Lesser Coucal, Grass Owl (maybe), Richard's Pipit, Bluethroat, Striated Grassbird, Black-browed, Manchurian (maybe) and Oriental Reed-Warblers, Dusky Warbler, and Red Avadavat. Accommodation basic hotel.
KRATIE (2 days) is a town on the Mekong River northeast of Phnom Penh. About 20 km. north of Kratie, along the Mekong River, is a rapids where the newly described (2001) Mekong Wagtail (Motacilla samveasnae) can be found. We'll visit the rapids by boat to try for the wagtail. Below the rapids is a good site to see the endangered Mekong Dolphin. Asian Golden and Striated Weavers are sometimes seen near Kratie. Accommodation basic hotel.
BOKOR NATIONAL PARK (2 days) lies in SW Cambodia in the Damrei (Elephant) Mountains a short distance from Kampot. We'll look for birds in forested areas up to 1,000 m (3,300 ft) in elevation, especially the Chestnut–headed Partridge, which is very difficult to see. Other possible species are: Grey-faced Buzzard, Rufous-bellied Eagle, Barred Cuckoo-Dove, Wedge-tailed Pigeon, Mountain Imperial Pigeon, Green-billed Malkoha, Brown-backed Needletail, Fork-tailed Swift, Moustached Barbet, Long-tailed Broadbill, Black-winged Cuckooshrike, Bar-winged Flycatcher-shrike, Ochraceous Bulbul, Siberian Blue Robin, White-tailed Robin, White-browed Scimitar-Babbler, Streaked Wren-Babbler, White-browed Shrike-Babbler, White-bellied Erpornis (Yuhina), Asian Stubtail, Hainan Blue Flyctacher, and Black-throated and Crimson Sunbirds. Accommodation basic.
KAMPOT (1 day) offers some coastal shorebirding. Likely birds are: Little Heron, Asian Golden Plover, Greater Sand-Plover, Marsh, Curlew and Broad-billed Sandpipers, Pale-rumped Swiftlet, and Collared Kingfisher. Accommodation basic hotel.
THE ITINERARY
| | |
| --- | --- |
| Monday | Arrive Bangkok. Overnight Novotel Suvarnabhumi Airport Hotel. |
| Tuesday | Fly Bangkok/Siem Reap. Afternoon Angkor Wat. Overnight La Noria Hotel. |
| 16 days | On tour. |
| Friday | Fly Phnom Penh/Bangkok. Overnight Novotel Suvarnabhumi Airport Hotel. |
| Saturday | Depart Bangkok. |
TOUR CONDITIONS
AIR CONSIDERATIONS: Your Bangkok/Siem Reap and Phnom Penh/Bangkok tickets will be purchased by us to ensure keeping the group together. Please plan to arrive a day or two early to ensure timely arrival and to allow some time to overcome jet lag.
PARTICIPANT LIMIT: 10 persons, plus the leader.
LAND PRICE BASED ON NUMBER OF PARTICIPANTS: Land price is based on the number of participants. This method of pricing allows us to operate with any size group up to the maximum of 10.
LAND PRICE INCLUDES: Land price includes all ground transportation, double occupancy hotel rooms, all meals, bottled water at meals, guides, tips, fees, and foreign airport taxes when accompanied by the leader. NOT INCLUDED are airport taxes when not accompanied by the leader, passports, visas, service charges for obtaining visas, excess baggage charges, laundry, personal tips, alcoholic beverages, soft drinks, fruit juices (except at breakfast), mineral waters, room service charges, items not on menu of included meals, personal items, souvenirs, sightseeing not included in the itinerary, insurance of any kind, and telephone calls.
LAND AND AIR RATES: All prices are based on tariff and exchange rates in effect for this tour. Price changes, due either to alteration in tariffs or exchange rates, will be reflected in the prices charged for the tour.
KingBird's planning, promotional and operating costs are included in all tour rates.
ACCOMMODATIONS: Based on two persons sharing a twin-bedded room. Single rooms will be available at the supplement charge quoted. In some of the more remote areas, however, single rooms are unavailable. We'll supply roommates where possible, but cannot guarantee to find roommates for all desiring them. If no roommate is available, the single supplement will be charged for any person utilizing single accommodation. First class hotel with private bath and air conditioning is provided in Bangkok. Our Siem Reap and Phnom Penh hotels are pleasant ones. The other accommodations are rustic to basic.
MEALS: All meals are included in the tour price. A la carte meals will be provided on some days. Box lunches will be utilized on some days. For those joining only a segment of the tour, meals are normally not included when you are not with the main tour group (prior to joining or after leaving).
TOUR ESCORT: The leader of your tour, Ben King, will be with you during the entire tour from the time you reach Bangkok until you depart from Bangkok. There will also be a representative of the local tour company with the group at all times to assist wherever he may.
TAXES AND GRATUITIES: All necessary gratuities to hotel staff, waiters, local guides, drivers, etc. are included in the tour price. Your tour leader is paid a salary and does not expect tips. Thus all necessary tips are included in the tour price and you are not expected to tip anyone. However, if you do wish to tip anyone for special services or because you like them, it is quite all right. All local government taxes are included in the tour price.
LOCAL FEES: All park and entry and local fees are included in the tour price.
BAGGAGE: International flight baggage allowance from USA to Bangkok and return is two pieces with a maximum total dimension (length, width, height of both pieces added up) of 107 inches. Note that most USA-based airlines now allow only 23 kg. (50 lbs.)/bag—there will be a surcharge for any excess up to 70 lbs. (32 kg.). On many foreign airlines, each bag may weigh up to 32 kilograms (70 pounds). However, on all internal flights in Asia, you are allowed a maximum of 20 kg. (44 lbs.). They are likely to weigh your luggage carefully at least once or twice and perhaps each time. You will be responsible for any excess baggage charges. You are allowed one carry-on bag on all flights. Air carrier's liability for baggage loss is limited and therefore baggage insurance is recommended and available at nominal rates. Baggage insurance forms will be included along with your interim invoice.
SMOKING RULES: (1) NO smoking in vehicles. (2) NO smoking at meal tables. (3) NO smoking in bedrooms if your roommate does not smoke. (4) The smoker is expected to see that his smoke does not move toward other tour members at all times.(5) Anyone smoking will be last in line on single-file paths or trails.
---