NE CHINA
BEIDAIHE & HAPPY ISLAND TOUR
17 days
Beidaihe is one of the world's great sites for migration spectacle. Situated on China's northeastern coast due east of Beijing and just south of Qinhuangdao, it offers a splendid opportunity to get good views of many of northeastern Asia's breeding species, both land and water birds. Many follow a coastal migration route and seem to congregate at Beidaihe and especially Happy Island. Mid-May is usually the peak of the migration and even slow days can be great birding, while large congregation days can be mind-boggling. We cannot guarantee a "whopper" day, but we'll see a large number of exciting species, some of which are far more difficult to see on their breeding grounds.
There are two main sites for birding: (1) Beidaihe and environs, and (2) Happy Island. BEIDAIHE is the traditional site and is still quite good, with a variety of habitats, including: sandy beach, mudflats, fresh water marshes, paddyfields, and woodlands. Later, in summer, when the water and air temperature warm up a bit, Beidaihe is a summer resort, attracting the top government officials. Thus we'll have good accommodation and food here. We'll visit the Great Wall at Jiao Shan for a few additional species.
HAPPY ISLAND is a half hour boat ride from the coast about 100 km. south of Beidaihe. Because there is only a limited amount of cover on this small island, the birds tend to be concentrated, making for superb birding. In addition, there are extensive mudflats for excellent shorebirding. The majority of the shorebirds will be in breeding plumage for a real treat. We'll spend most of our time here. Accommodation on Happy Island is basic, with good food.
Among the special species we should see are: Yellow-nib Duck (split from Spot-billed Duck), Japanese Sparrowhawk, Amur Falcon, Japanese Quail, Eurasian Oystercatcher, Far Eastern Curlew, Asian Dowitcher, Pintail Snipe, Great Knot, Temminck's Stint, Sharp-tailed Sandpiper, Black-tailed Gull, Relict and Saunders's Gulls, Rufous-tailed Robin, Siberian Rubythroat, Siberian Blue Robin, Siberian Thrush, Dusky Thrush, Vinous-throated Parrotbill, Thick-billed Warbler, Pallas's Leaf-Warbler, Yellow-browed and Two-barred Warblers, Yellow-rumped and Mugimaki Flycatchers, Manchurian Penduline-Tit, Chestnut-lined, Meadow, Ochre-rumped (Japanese-Reed), Tristram's, Chestnut-eared, Yellow-throated and Pallas's Buntings, Grey-capped Greenfinch, Brown and Grey Grosbeaks, Purple-backed and White-cheeked Starlings, and Azure-winged Magpie.
Other more widespread likely species are: Purple Heron, Chinese Pond-Heron, Common Shelduck, Oriental Honey-Kite, Pied Harrier, Eastern Marsh-Harrier, Eurasian Hobby, Common Pheasant, Asian Golden Plover, Eurasian Curlew, Black-tailed and Bar-tailed Godwits, Marsh Sandpiper, Terek Sandpiper, Red Knot, Rufous-necked and Long-toed Stints, Curlew Sandpiper, Black-winged Stilt, Whiskered and White-winged Terns, Oriental Cuckoo, Common and Fork-tailed Swifts, Eurasian Hoopoe, Great Spotted Woodpecker, Grey-headed Woodpecker, Red-rumped Swallow, Yellow Wagtail (3 races: macronyx, taivana, and simillima), Richard's Pipit, Olive Tree-Pipit, Light-vented (Chinese) Bulbul, Brown Shrike, Bluethroat, Daurian Redstart, Siberian Stonechat (split from Common), Scaly and Eye-browed Thrushes, Black-browed and Oriental Reed-Warblers, Zitting Cisticola, Dusky, Radde's, and Arctic Warblers, Blyth's Leaf-Warbler, Asian Brown and Red-throated (split from Red-breasted) Flycatchers, Marsh Tit, Chestnut-flanked White-eye, Little, Yellow-breasted and Chestnut Buntings, Black-faced Bunting, Common Rosefinch, Black-naped Oriole, Black Drongo, Blue Magpie, etc.
With a little luck we may find many of the following: Yellow and Schrenck's Bitterns, Chinese Goshawk, Eurasian Sparrowhawk, Yellow-legged Buttonquail, Baillon's Crake, Watercock, Grey-headed Lapwing, Spotted Redshank, Siberian (Grey-tailed) Tattler, Swinhoe's Snipe, Eurasian Woodcock, Broad-billed Sandpiper, Oriental Pratincole, Russian (L. heuglini) and Siberian (L. vegae) Gulls, Large Hawk-Cuckoo, Indian and Common Cuckoos, Oriental Scops-Owl, Northern Boobook (N. japonica), Grey Nightjar, White-throated Needletail, Black-capped Kingfisher, Dollarbird, Eurasian Wryneck, Grey-capped and Rufous-bellied Woodpeckers, Forest and Yellow-hooded Wagtails, Blyth's, Red-throated, and Buff-bellied Pipits, Ashy Minivet, Orange-flanked Bush-Robin, White-throated Rockthrush, Grey-backed, Pale, and Chinese Thrushes, Chinese Babbler (Chinese Hill-Warbler), Plain Laughingthrush, Asian Stubtail, Lanceolated Warbler, Manchurian Reed-Warbler (A. tangorum), Hume's Warbler, Pale-legged Leaf-Warbler, Eastern Crowned Warbler, Grey-streaked and Dark-sided Flycatchers, Olive-backed Flycatcher (F. elisae, split from Narcissus Flycatcher), Yellow-bellied Tit, Japanese White-eye, Yellow-browed and Reed Buntings, Brambling, Hawfinch, Eurasian Jay, and Red-billed Chough.
With lots of luck, we might see several of these: Chinese Egret, Black Stork, Grey-faced Buzzard, White-winged and Ruddy-breasted Crakes, Long-billed Plover, Little Curlew, Nordmann's Greenshank, Spoon-billed Sandpiper, Little Owl, Fairy Pitta, Pechora Pipit, Tiger and Bull-headed Shrikes, Japanese Waxwing, Eurasian Blackbird, Brown-headed Thrush, Grey-sided Thrush, Spotted and Chinese Bush-Warblers, Rusty-rumped Warbler, Chinese Leaf-Warbler, Golden-spectacled Warbler, Blue-and-white Flycatcher, and Eurasian Siskin. We might well see one or two species that are far from their normal range which hadn't been found here before (e.g. Black-winged Cuckooshrike and Tickell's Leaf-warbler on our 2000 tour).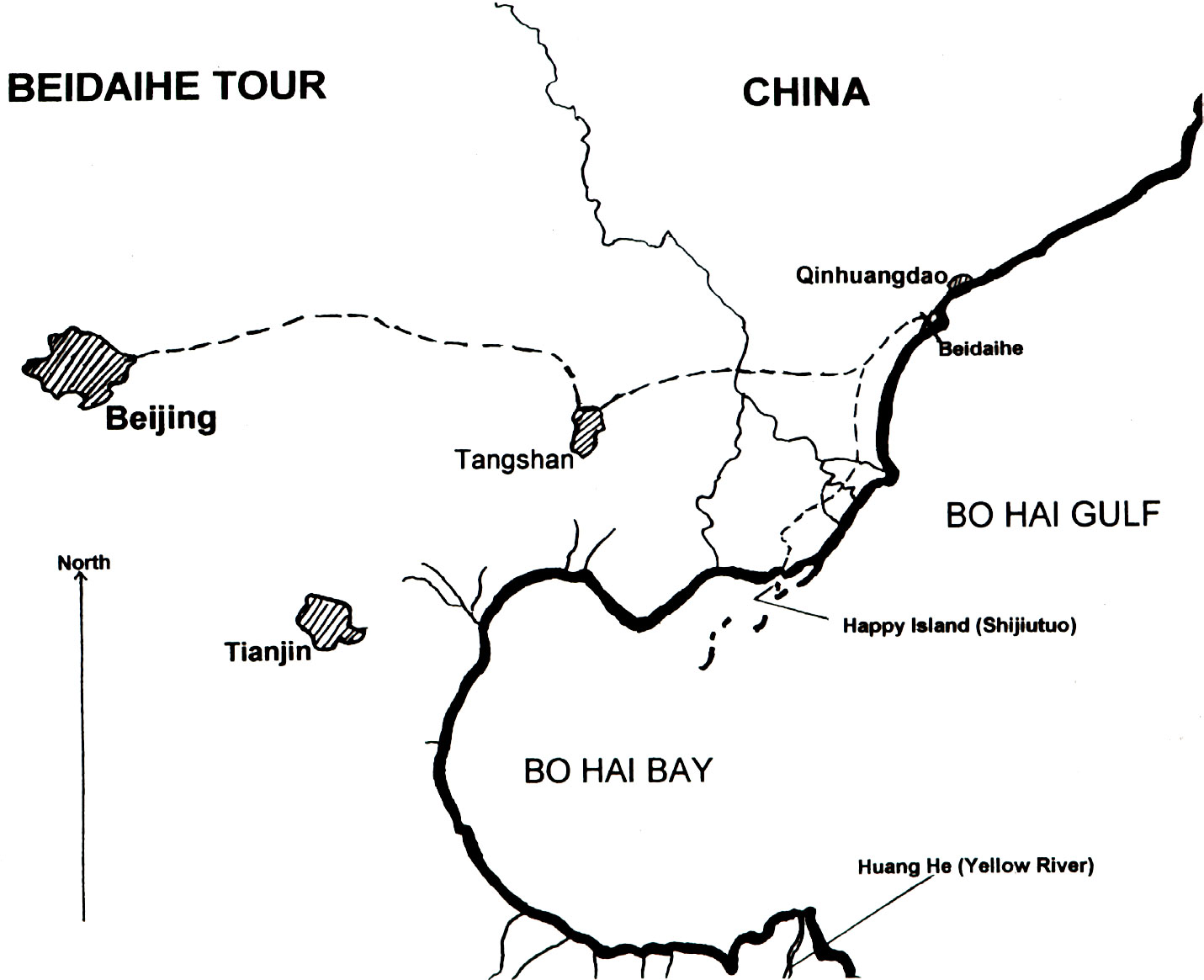 THE LEADER
BEN KING, president of KingBird Tours, has led 144 tours in Asia (including 26 in China) and is one of the most experienced bird-tour leaders on that continent. He has observed over 2,100 species of birds in Asia. He has written A Field Guide to the Birds of South-East Asia and Checklist of the Birds of Eurasia. He has seen more species of China's birds than any other ornithologist (all but about 11 of the more than 1,220 species--99% of the fauna). He has spent three years birding in China, covering much of the country. His knowledge of the birds, their habits and where they are found assures you of the best possible birding experience in China.
THE ITINERARY
| | |
| --- | --- |
| Sunday | Arrive Beijing. Overnight Sino-Swiss Hotel. |
| 13 days | On tour: Birding Beidaihe and Happy Island. |
| Sunday | Morning birding. Afternoon drive Beidaihe to Beijing. Overnight Sino-Swiss Hotel. |
| Monday | Depart from Beijing. |
TOUR CONDITIONS
FLIGHT CONSIDERATIONS: We recommend arriving in Beijing a day or two early to ensure timely arrival and allow some time to get over jet lag. There are no internal China flights.
LAND PRICE/NUMBER OF PARTICIPANTS: Land price is based on the number of participants. . The maximum number of participants will be 10.
LAND PRICE INCLUDES: Land price includes all ground transportation, transfers, double occupancy hotel rooms, all meals, guides, tips, fees, and airport taxes in China. NOT INCLUDED are airport taxes outside China, passports, visas, excess baggage charges, forwarding of baggage, souvenirs, laundry, personal tips, alcoholic beverages, room service charges, items not on menu of included meals, personal items, fees for vaccinations, sightseeing not included on itinerary, insurance of any kind, telephone calls, cable or telex charges, medical examinations or treatment, and meal or other charges incurred which are not part of the itinerary (caused by any unforeseen delay beyond our control).
LAND RATES: All prices are based on tariffs in effect for this trip. If there are price changes, they will be passed along to tour members. KingBird Tours' planning, promotional and operating costs are included in all tour rates.
TRANSPORTATION: Surface transportation is by car or minibus.
ACCOMMODATION: Based on two persons sharing a twin-bedded room. Single rooms will be available only in Beijing and Beidaihe. We'll supply roommates if possible, but if none is available, the single supplement will be charged. Excellent hotel with private bath will be supplied in Beijing. Accommodation will be good at Beidaihe and quite basic at Happy Island.
ITINERARY: KingBird Tours reserves the right to make any necessary changes in the itinerary. Note that our Chinese hosts may make alterations in the itinerary that are beyond the control of KingBird Tours.
MEALS: All meals will be provided, i.e., breakfast, table d'hôte lunch and dinner.
TOUR ESCORTS: Ben King will be with you from the time you arrive in Beijing until you depart from Beijing. Jesper Hornskov will be with you the entire time at Beidaihe and Happy Island.
GRATUITIES: Tipping is illegal in China. ONLY books, pamphlets, or other non-political written material may be given. Consult your trip leader if you wish to reward any of the Chinese who assist us.
BAGGAGE: International flight baggage allowance from USA to Beijing is two pieces with a maximum total dimension (length, width, height of both pieces added up) of 106 inches. Each bag may weigh up to 32 kilograms (70 pounds).
SMOKING RULES: NO smoking in vehicles. NO smoking at meal tables. NO smoking in bedrooms if your roommate does not smoke. The smoker is expected to see that his smoke does not move toward other members, at all times. Anyone smoking will be last in line on single-file paths or trails.

---